Welcome to a new Week in Review. Each week, we'll let you know what we've been reading and checking out, whether it's books, movies, shows, or anything else 🙂
Katie: It has been a busy couple of weeks for me. I finished The Killing Jar by Jennifer Bosworth (4 stars), then I read The Girl From Everywhere by Heidi Heilig (5 stars), followed by This is Where it Ends by Marieke Nijkamp (5 stars), and Shallow Graves by Kali Wallace. I am currently reading The May Queen Murders even though I told myself I'd wait until closer to the release date…I just couldn't resist!
Hameedah: I can't wait to read The Girl from everywhere. This week i finally read Illuminae (3/4 stars) and the witch hunter (3/4) stars. I read this is where it ends maybe 3 months ago, enjoyed it.
Rereading the winner's curse series. Doing a Buddy read with a friend for red rising ( seriously how many times can i read it!) I started The house by christina lauren , slowly getting through it because i keep picking up more books. I'm like currently reading 6 but actively currently reading maybe 4 lol
Also omg did everyone read the Morning star Sneak peak!? HOLY AWESOME right!? and The winner's kiss Sneak peek!? Omg i seriously can NOT wait!
Katie: I haven't read the sneak peeks because I haven't read any in the series yet but the Red Rising trilogy and Winner's Trilogy have both been on my radar for a while now.
I hope everyone had a Merry Christmas or happy holidays or just a happy day in general! I got some pretty awesome books yesterday! Heir of Fire and Queen of Shadows by Sarah J. Maas and The Middle of Somewhere by Sonja Yoerg. I have read The Middle of Somewhere and loved it and I am pretty confident that I will adore the other Throne of Glass books as much as the first two.
Erin: I read All These Hidden Scars by Avril Ashton and Tied to Trouble by Megan Erickson. I'm trying to be better about participating 🙂
Kassiah: I hope everyone had a Merry Christmas, too, and I cannot believe it's already EIGHT days into the new year. I've been reading a lot lately, too, and the stand out for me over the past week or so is The Year We Fell Apart. It was pretty good. You guys are reading machines! I also just finished watching the entire Breaking Bad series. I love Jesse Pinkman. Yeah, bitch!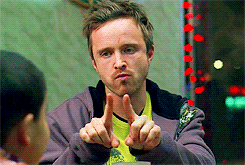 Lettuce know what you've been up to! How were your holidays? Are you already back into the swing of things? What have you been reading? Tell us all the things! 🙂
Related Posts