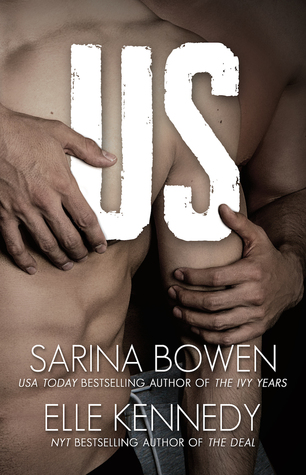 Us
by
Elle Kennedy
,
Sarina Bowen
Also by this author:
Him
,
Addicted
,
One Night of Sin
,
Good Boy
,
Stay
,
The Fifteenth Minute
,
Rookie Move
,
Goodbye Paradise
,
Hello Forever
,
Temporary
,
Heartland
Series:
HIM #2
Published by
Rennie Road Books
on March 8, 2016
Genres:
Contemporary Romance
,
M/M Romance
Character(s):
Hockey Players
Pages:
328
Goodreads
Buy the Book
Can your favorite hockey players finish their first season together undefeated?

Five months in, NHL forward Ryan Wesley is having a record-breaking rookie season. He's living his dream of playing pro hockey and coming home every night to the man he loves—Jamie Canning, his longtime best friend turned boyfriend. There's just one problem: the most important relationship of his life is one he needs to keep hidden, or else face a media storm that will eclipse his success on the ice.

Jamie loves Wes. He really, truly does. But hiding sucks. It's not the life Jamie envisioned for himself, and the strain of keeping their secret is taking its toll. It doesn't help that his new job isn't going as smoothly as he'd hoped, but he knows he can power through it as long as he has Wes. At least apartment 10B is their retreat, where they can always be themselves.

Or can they?

When Wes's nosiest teammate moves in upstairs, the threads of their carefully woven lie begin to unravel. With the outside world determined to take its best shot at them, can Wes and Jamie develop major-league relationship skills on the fly?

Warning: contains sexual situations, a vibrating chair, long-distance sexytimes and proof that hockey players look hot in any shade of green.
Erin: "There's an old quote my mother once painted on a ceramic platter. Love is friendship set on fire. I get it now."
US is the very much anticipated follow-up to last year's mega-hit HIM, written by the powerhouse duo of Elle Kennedy and Sarina Bowen. Along with just about everyone else, I was desperately waiting for more of Ryan Wesley and Jamie Canning and I was so happy when I heard that Kennedy and Bowen were going to give us more of these two super-hot and sexy hockey guys. And boy did these two deliver.
Okay, let's get a tiny bit of bad business out of the way before we get on to the good stuff. And trust, there is PLENTY of good stuff going on in US. To be completely honest, I didn't love US quite as much as HIM. Oh the guys are every bit as fabulous, both together and apart, but for about the first 20% of the book, I found myself going "what the hell" more than a few times. This is mainly due to the introduction of a new character, Blake. He grew on me, he did, but it took time for him to overcome his initial impression. He was abrasive and juvenile and more than a bit misogynistic. Coming from these two authors who have brilliantly written M/F books with strong female leads, this surprised me. A LOT. They've both written books where the male lead is a player and goes through girl after girl after girl, but I've never once felt like they were anything but respectful. Not so when it comes to Blake. And yes, I'm aware that not all guys are PC and show women the respect they deserve, but Blake came off as a frat boy stereotype, by action and by words, and it was very unappealing.
Once Kennedy and Bowen shift the focus back onto Wes and Jamie, well, then the smiles came out and I couldn't put the book down. I've told more than a few people, one of the things I love most about these guys is how much I adore them together. I love their relationship—the give and take these two have is swoony and sweet. I love their friendship and how even though they lose sight of it from time to time, they always go back to what makes their relationship so strong. I love their banter and their history and their commitment to one another. And their chemistry … is still off the charts sizzling!
"Wes," I murmur.

He raises his head. His gray eyes are smoky with desire. "Hmmm?" he says lazily.

"Stop fucking teasing me and start fucking fucking me," I rasp.

"Fucking fucking you? Did you really need two fuckings?"

"One's an adverb and one's a verb." My voice is as tight as every muscle in my body. I'm about to go up in flames if he doesn't make me come.

His laughter warms my thigh. "I love the English language, dude. It's so creative."
*sigh* I REALLY love these two together!
Sarina Bowen and Elle Kennedy are both masters at writing about hockey and while I wish there was more of it in US, what there was is done very well. Plenty of action, vivid descriptions, and authentic reactions and language, it's one of the best parts of the book and the series as a whole. I really enjoyed the camaraderie between Wes's teammates and while I find it just a bit unrealistic that NO ONE knows of Wes's sexual orientation (especially considering his entire college team was aware he's gay not to mention in this day of social media and the digital age anything like that wouldn't get out) I thought that the entire 'coming out' was handled just right. I loved Jamie's reaction—his worry for Wes, his concern about their privacy, wondering when the media circus will die down. It all felt true to his character.
While I wasn't a super fan of Jamie's woe is me attitude toward the end of the book, what I was a fan of was how they both figured things out and got back to what makes them … them. Their deep, strong friendship, their history, and their love for one another. These two are definitely hot and so sexy together, but for me, it's the strength of their relationship that makes my heart flip-flop. I hope there's more of their story to come, I'm not ready to say good-bye and once you read US, you won't be either! Wes and Jamie forever!!!!
Report Card
Cover
Characters
Plot
Writing
Steam
Overall:
4
Related Posts