You know the Renegades series is one of our favorite series ever, and we couldn't wait for this book! We've got a great excerpt to share with you, as well as our thoughts, so let's get to it!
***About the Book***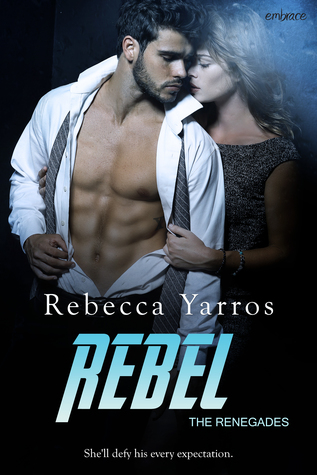 Rebel
by
Rebecca Yarros
Also by this author:
Full Measures
,
Eyes Turned Skyward
,
Beyond What Is Given
,
Hallowed Ground
,
Nova
Series:
The Renegades #3
Also in this series:
Nova
Published by
Entangled: Embrace
on August 28, 2017
Genres:
College Romance
,
Contemporary Romance
,
Fell in Love on Vacation
,
New Adult
,
One Night to More
,
Student Teacher Romance
Character(s):
Military Guys
,
Professors/Teachers
Pages:
440
Goodreads
Buy the Book
She's Penna Carstairs.
The Renegade they call Rebel.
FMX-treme Magazine's sexiest female athlete of the year.
There's no rule in extreme sports she hasn't broken,
No gender barrier she hasn't demolished.

She's the woman I met in a bar in Vegas.
The woman I illegally BASE jumped for.
The woman I spent one insane, incredible night with.
But now I'm screwed.
Or rather…not screwed.

Because the woman I can't get out of my head is the one woman I can never touch again.
I'm Dr. Cruz Delgado—the youngest professor on this campus,
And Penelope Carstairs just walked into my class.
***EXCERPT***
"Oh God, don't do that."
"Do what?"
"That." He pointed toward my mouth. "Everything I told you in Vegas is still true. You're still gorgeous, still sexy as hell, still everything that draws me in like a damned magnet, but you're also everything I can't have. Don't you get that? When you pull shit like that on the dance floor, you successfully drive me batshit crazy, watching you in some guy's arms." A small laugh escaped him. "Like that kid has any idea what to do with you if he actually managed to catch you."
"And you do?"
His eyes darkened. "Don't challenge me like that."
The tension stretched between us for a quiet moment until I broke the silence. "I didn't kiss him."
"I'm well aware, because if you had, I'm not sure if I could have let him walk out of here, and that's dangerous, Penelope. You are dangerous to me."
"I'm sorry," I said truthfully. "Logically, I know nothing can happen between us. I get it. But I see you, and all I can think about is the way you kissed me in Vegas. The way you touched me. I can't just erase those memories, Cruz. Like I said, somehow you make me do stupid things."
"You? I make you do stupid things?" he nearly yelled, and I was thankful for the loud, driving beat of the music beyond the office doors. "Woman, I got into a strange car for you. Illegally BASE jumped off a Ferris wheel to stay close to you. Went to jail for you, and I make you do stupid things?"
Keep Reading the Excerpt for Rebel by Rebecca Yarros
Keep Reading the Excerpt for Rebel by Rebecca Yarros
He stalked forward, his movements smooth like a predator, and a low hum filled my stomach, growing stronger with every step he took.
"I let you stay in my class. Stupid. I look for every reason to run into you, while simultaneously praying you'll stay far away because I need this job. Stupid. I take one look at you in that fucking dress, and I'm so hard I'm afraid I can't hide it in a room full of students. Stupid. I can't stop thinking about the way you taste, the way you open up under me, the way your nails left little half-moons in my shoulders when I found how wet you were for me."
If he got his hands anywhere near me, he'd find out I was just as wet now. God, his words were the biggest turn-on I'd ever experienced. Next to his abs. Or his arms. Or his mouth. Crap, the man was one giant sex package begging to be unwrapped.
"Cruz," I whispered as he cupped my face with one hand, his thumb rubbing over my lower lip, while he caged me against the desk with the other.
My tongue licked across the tip of his finger, unable to help myself.
"God, Penelope. You could cost me everything, and yet I'm still in here with you. And this might be the worst choice of all."
His mouth met mine in a kiss that sent my senses reeling. His tongue swept in, claiming every curve he might have missed last time, until it felt like my mouth belonged to him.
***About Rebecca Yarros***
Rebecca Yarros is a hopeless romantic and a lover of all things coffee, chocolate, and Paleo. She is the author of the Flight & Glory, Renegades, and Legacy series. She loves military heroes, and has been blissfully married to hers for fifteen years.
When she's not writing, she's tying hockey skates for her four sons, sneaking in some guitar time, or watching brat-pack movies with her two daughters. She lives in Colorado with the hottest Apache pilot ever, their rambunctious gaggle of kids, an English bulldog who is more stubborn than sweet, and a tortoise who might be faster than the bulldog. They recently adopted their youngest daughter from the foster system, and Rebecca is passionate about helping others do the same.
Find Rebecca Here: Website | Facebook | Twitter | Goodreads
***Our Thoughts***
Kassiah: I couldn't wait for Penna's story, and Rebel has been at the top of my most anticipated reads since I knew about it. Yarros absolutely did not disappoint–Rebel is possibly the best book of the series! (Though Paxton Wilder will forever be my favorite.) A fierce girl who takes life by the horns and a swoonworthy, standup guy make the perfect combination in Rebel by Rebecca Yarros.
This is a standalone, but I definitely think you should read the other two books in the Renegades series to fully understand what's going on here. I'll give you a little backstory in case you want to dive right in to Rebel, but don't read this spoiler if you're planning to read Wilder and Nova (and you really should): View Spoiler »In Wilder, Penna's sister, Brooke, basically went crazy and messed with Penna's bike before she did a stunt, which led to a cataclysmic accident resulting in Penna's leg being broken and a bunch of other injuries. Brooke didn't intend for Penna to get hurt–she wanted Wilder to be injured because she blamed him for her boyfriend, Nick, being paralyzed last year. Nick was part of the original four Renegades, and the entire point of the documentary that Wilder, Nova, and Rebel are filming is to raise money for him and awareness that though Nick is paralyzed, he has a great mind that can still contribute to the x-games in a major way. Brooke was taken to a mental institution and we're left with Penna and the gang still reeling from Brooke's betrayal. « Hide Spoiler
This picks up pretty much right at the end of Nova, with Penna still nursing her wounds and unsure of her place in the Renegades. She plans to give herself a test to see if she's ready to get back out there and runs into crazy hot former soldier Cruz Delgado at a bar in Vegas just before attempting a wicked–and illegal–stunt on her own. Cruz follows her and they share a hot night before Penna has to return to the ship and Cruz starts his new job. Little do they know, Cruz is the new professor on the ship and Penna is his student. Neither one of them has ever felt a connection like they feel with each other, but there is so much at stake for both of them. Will they be able to keep their hands off each other when lives could be ruined if they can't?
I absolutely loved Wilder by Rebecca Yarros (and lots of her other books, too), but I wasn't so crazy about Nova. Scratch that–I loved Landon aka Nova, the character, just not his love interest. Anyway, I love the whole idea for this series–extreme athlete best friends who are cruising around the world filming a documentary filled with death-defying stunts. They truly are best friends and have each other's backs in a way that leaves me starry-eyed.
"Penelope Carstairs. I don't care if you never do another stunt, you're still one of us. We will wait as long as you need, and we will accept whatever decision you make. You two are my best friends, and I promise we'll work through this. Just…please stay. Please give us the chance to be here for you the way you've always shown up for us."
Cruz was so amazing. He's so honorable and true, and I love the way he brings out the best in Penna. He challenges her.
"That's because you've been hanging out with boys."

"Oh really?"

"Your friends? All boys. Their little follower-Renegades? Boys. Jumping out of airplanes and flipping motorcycles doesn't make you a man. Serving something larger than yourself, sacrificing for someone you love, understanding the nature of true suffering and working to alleviate it in someone other than yourself–that's manhood."

"I have friends that definition would fit."

"No, you don't. Not fully. That's why you're still single."

My back straightened, and I crossed my arms in front of me. "Oh, that's why?"

The look he sent me could have been personally responsible for global warming. "You are a headstrong, independent, stubborn woman surrounded by a sea of boys, when what you crave–what you need–is a man. One who isn't going to hold you back but isn't afraid of you, either. One who knows the delicate balance between watching you fly and protecting you so you don't fall."
Did I mention he's way hot? And swoony?
"I'll change my Facebook relationship status and everything."
The realistic way that Penna felt after what happened was one of my favorite parts. I am so glad that Yarros chose to explore her mental anguish as much as the physical rehab she had to go through. She was relatable and authentic and one of my favorite characters ever.
I loved getting what we got from the other characters, too, even if I still hate Rachel. Paxton and Leah are the sweetest and I just want to cuddle them. Some of my favorite parts are Wilder and Leah.
There were a few things I didn't love. As much as I don't mind the eye candy on the cover, I wish it had been just Penna, looking sexy and fierce like the other two covers. It's kind of unfair to her character, I think. There's also some manufactured drama that I wasn't a fan of, but overall this was in solid oh my god, I loved it so much territory.
There's an amazing epilogue that makes me think this series is definitely over, but I wouldn't mind something more with them. Wilder's brother, Brandon, deserves to find love, even if I kind of wanted it to be with Penna. Either way, I'll be reading whatever Rebecca Yarros has up next for us.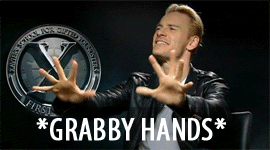 Report Card
Cover
Characters
Plot
Writing
Steam
Overall:
4.5
What do you think, Pretties? Have you read the other books in the Renegades series? Read them!
Related Posts