We love Katee Robert and can't tell you how excited we are to be participating in the blog tour for her latest Entangled Brazen title, Protecting Fate. We've got an awesome giveaway to share with you today, as well as our thoughts on Protecting Fate, but first, here's the 411:
Protecting Fate
by
Katee Robert
Also by this author:
Lovers Unmasked
,
Meeting His Match
,
Falling for His Best Friend
,
Foolproof Love
,
Forbidden Promises
Series:
Serve #6
Published by
Entangled: Brazen
on March 17, 2015
Genres:
BD/sm
,
Contemporary Romance
,
Erotica
Pages:
172
Goodreads
Buy the Book
He'll keep her safe…but who will protect her from him?
Fixer Sara Reaver is in serious trouble. She's stepped on the wrong toes, and now her uncle is sending her out of the city in an effort to keep her safe—and he's assigning her a glorified babysitter. The last person she expects to show up is the gorgeous Z, or for him to tempt her and then reject her in the space of a single night. Twice. Now she's out to prove to him just how good they'd fit up together in every way imaginable.

Mercenary Z Loreto hates protection jobs, but he's willing to make an exception for his best friend's little sister. The only problem is she calls up things he's been doing his damnedest to keep under wraps for the last seven years. But when she pushes him too far, it all comes rushing to the fore, and the fact she's willing to submit to his every desire only makes the loss of control sweeter.

Sara and Z have a boatload of issues between them, but they're sure they can make things work if they take it one day at a time… Right up until things spiral beyond their control. Now Z's playing for keeps in a big way, and Sara's got to decide if a chance at true happiness is worth the risk of repeating history.
Kassiah:
Light BDsm fans are going to love
Protecting Fate
by
Katee Robert
. Readers who want sizzling hot scenes with an alpha male and a heroine who isn't afraid to ask for what she wants are going to love
Protecting Fate
by
Katee Robert
. Readers who want to feel a connection with the characters and care what happens with them as a couple outside of the bedroom might not love it so much.
I love Katee Robert and love the entire line of Brazen Books by Entangled Publishing, so it was a no-brainer when we were invited to participate in the blog tour for Protecting Fate, the sixth book in the Serve Series by Tessa Bailey and Katee Robert. I don't think I've read the other books in the series (what was I thinking?!?), but it didn't keep me from, ahem, enjoying the characters in this book.
There's no doubt that Sara Reaver is sassy and she doesn't take "no" for an answer easily. She gets fired up when mercenary Zebadiah "Z" Loreto, the protection detail her uncle hired for her turns down her advances. They're clearly into each other and when they finally give in to that, it's on. They've both been burned in the past, and because of that, Z is determined to stay in control of every situation. Sara doesn't mind letting him have his way with her body, and there's some pretty hot stuff going on.
"Did I give you permission to speak?"

When she opened her mouth, he cut her off before she got an answer out. "The only words I want to hear are 'Yes, Sir' or 'No, Sir.'"

It was an effort to swallow. "Yes, Sir."

"You will not speak unless spoken to." He pinched her nipple hard enough to make her cry out. "Understand?"

The backseat seemed to have jumped ten degrees hotter. "Yes, Sir."

"Please me, and I'll fuck you tonight until you lose track of how many times you come."
I love stories that involve falling in love with the best friend's little sister. Even though I haven't read the other books in the Serve Series, I appreciated that forbidden romance aspect to this book.
The end was cliché and the storyline was predictable, but I'm fine with that. My main problem was feeling a connection to these characters. Maybe if I had read the other books in the series, I would have been more excited to see them get together from the beginning–I don't know. I didn't understand their attraction at first, other than "damn he/she looks good". There was some drama at the end that I didn't like but I can't really say much about that without spoiling everything.
With that being said, you can always count on Katee Robert to deliver smokin' hot scenes and Brazen titles are perfect for you need a steamy pick-me-up. Protecting Fate is a quick, hot read, and you should check it out.
Report Card
Cover
Characters
Plot
Writing
Steam
Overall:
3
***Interview***
We've got a great Interview with author Katee Robert:
***About Katee Robert***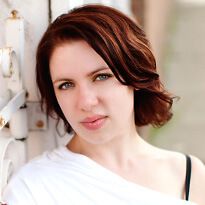 New York Times and USA TODAY bestselling author Katee Robert learned to tell her stories at her grandpa's knee. She found romance novels at age twelve and it changed her life. When not writing sexy contemporary and speculative fiction romance novels, she spends her time playing imaginary games with her wee ones, driving her husband batty with what-if questions, and planning for the inevitable zombie apocalypse.
Find Katee Here: Website | Facebook | Twitter | Goodreads
***GIVEAWAY***
1 $50 Gift card to Amazon or Barnes and Noble and 3 winners of Katee Robert swag pack
a Rafflecopter giveaway
Good luck and don't miss the other stops on the Protecting Fate by Katee Robert blog tour!
Related Posts