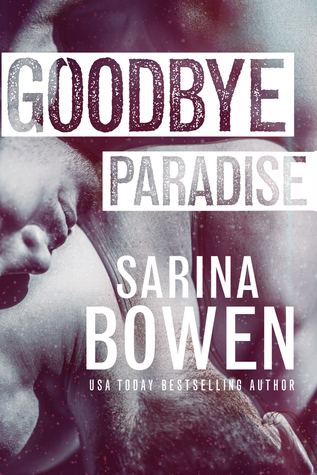 Goodbye Paradise
by
Sarina Bowen
Also by this author:
Him
,
The Fifteenth Minute
,
Us
,
Rookie Move
,
Good Boy
,
Stay
,
Hello Forever
,
Temporary
,
Heartland
Series:
Hello Goodbye #1
Also in this series:
Hello Forever
Published by
Rennie Road Books
on March 21, 2017
Genres:
Contemporary Romance
,
Forbidden Love
,
Friends to More
,
M/M Romance
Pages:
266
Goodreads
Buy the Book
Most people called it a cult. But for twenty years, Josh and Caleb called it home.

In Paradise, there is no television. No fast food. Just long hours of farm work and prayer on a dusty Wyoming ranch, and nights in a crowded bunkhouse. The boys of the Compound are kept far from the sinners' world.

But Joshua doesn't need temptation to sin. His whole life, he's wanted his best friend, Caleb. By day they work side by side. Only when Josh closes his eyes at night can they be together the way he craves.

It can never be. And his survival depends on keeping his terrible desires secret.

Caleb has always protected Josh against the worst of the bullying at the Compound. But he has secrets of his own, and a plan to get away — until it all backfires.

Josh finds himself homeless in a world that doesn't want him. Can Caleb find him in time? And will they find a place of safety, where he can admit to Josh how he really feels?

Warning: Contains a hot male/male romance, copious instances of taking the Lord's name in vain, and love against the kitchen counter. This book was previously released under the title: In Front of God & Everyone.
Erin: Here at Pretty Sassy Cool, Sarina Bowen is among our very favorite authors. She's an immediate auto-buy for us and when we see she's got a new book coming out, well, the excitement starts immediately and only grows as release day gets closer. When we heard about Goodbye Paradise, our excitement was at flail level right away. This book was just all around fantastic. A really good plot, characters that we immediately fell in love with, and Sarina Bowen's writing is as always just spectacular. Don't let the blurb scare you. Yes, it's about two boys who are best friends who escape a religious cult, but it's about much more than that. It's about what comes after and how Joshua and Caleb find their way in the world.
Right from the very beginning of the book, these two boys had our hearts completely all aflutter. Joshua and his innocence and then there's get shit done Caleb. Really, it was love at first sight. You'd think that a book about escaping a religious cult would be full of angst, but that's not the case here. A bit unrealistic in the way Joshua and Caleb land on their feet for sure, but this IS a romance book so it works. They meet Washington and he was a knight in shining armor the way he swooped in and helped Joshua and Caleb find their way to safety in the form of a friend, Maggie, who's also escaped the cult. It took away a bit, we think, from the overall authenticity of the story, but honestly, Joshua and Caleb are such endearing characters you're happy they don't have to suffer. Too much. There are some bumps in the road so don't think it's all sunshine and roses for our boys, but overall, this is a very light, sweet story.
I squeezed my eyes shut. "It's a sin."

"No," he whispered, still stroking my face. "Hurting someone is a sin. Did I hurt you?"

"No."

"Does this hurt someone else? Are you going to marry a woman, Josh? Am I keeping you from that?"

"No," I sighed. It was funny, but I'd always known I wouldn't marry a woman. A wife would never be found for me at Paradise. And not once had I felt bad about it.

"I know it hasn't even been forty-eight hours," he said quietly. "It's going to take you a while to leave that place behind. I'm sorry. I should have waited. I'm just so tired of holding it all at bay."

I really didn't want him apologizing to me. I reached up, circling him in my arms, pulling him down beside me. "I love you." I could say that without guilt. Because loving someone wasn't a sin. Other things…sure. But love could never be a crime.
Joshua, especially, was just so lovely. His innocence and utter fascination with the wide world was quite enjoyable to watch. And when Caleb admits his feelings for Joshua, the same ones Joshua has been struggling with for most of his life, it's a bit rough for a minute, but then they are just so great together. Joshua struggles with his homosexuality and believing it's a sin since that's what he's been ingrained to believe, but Caleb helps him overcome this. And then some, because boy these two go at like rabbits any chance they get. They're worried about upsetting Daniel and Maggie, who they both fear would not like to learn they're gay, but as we find out later on in the story, this worry is unfounded. They accept Joshua and Caleb into their home and family and though there are some tense moments of adjustment for all of them, they all become family.
Really, Goodbye Paradise is just a really lovely story. It's about love and acceptance and being free to be who you want. This book will leave your heart full and with a smile on your face. These two are really just beautiful and the romance is swoon worthy. Sarina has this way of balancing sexy and sweet that's unlike anyone else and the overall story kept us hooked all the way through. We can't wait to see what happens in the next book because Sarina has proved once again why we love her so much and why every book just keeps getting better and better!
Report Card
Cover
Characters
Plot
Writing
Steam
Overall:
4
Related Posts