If you know us, then you know we cannot get enough of Katee Robert. Girl can write some serious hotness and it definitely does. not. stop. with The O'Malleys Series. Jude slays us. Enough about our flailing. We had the incomparable Katee Robert sit down and give us her Top Ten Songs She Listened to While Writing Forbidden Promises. Katee already told us how important music is to her, so let's get right to it, along with a kick-ass excerpt and an amazing giveaway:
***The Top 10 Things Katee Robert Listened to While Writing Forbidden Promises***
The O'Malley series has a master soundtrack (the first time I've ever had a soundtrack stick around for more than one book), but a few songs get added with each book. These are the top ten songs I listened to while writing Forbidden Promises. It's a very eclectic mix!
Laura – Flogging Molly
Ride – Chase Rice (feat Macy Maloy)
Forever Yours – Trey Songz
Hold Me Down – Halsey
Brave Enough – Lindsey Stirling (feat Christina Perri)
Devil's Backbone – Civil Wars
Heavy in Your Arms – Florence + the Machine
Dangerous Woman – Ariana Grande
Cold Day in Heaven – Delta Rae
Not Afraid Anymore – Halsey
***About Katee Robert***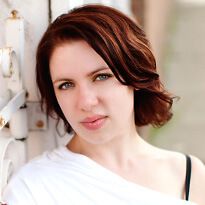 New York Times and USA TODAY bestselling author Katee Robert learned to tell her stories at her grandpa's knee. She found romance novels at age twelve and it changed her life. When not writing sexy contemporary and speculative fiction romance novels, she spends her time playing imaginary games with her wee ones, driving her husband batty with what-if questions, and planning for the inevitable zombie apocalypse.
Find Katee Here: Website | Facebook | Twitter | Goodreads
***About the Book***
Forbidden Promises
by
Katee Robert
Also by this author:
Lovers Unmasked
,
Meeting His Match
,
Protecting Fate
,
Falling for His Best Friend
,
Foolproof Love
Series:
The O'Malleys #4
Published by
Forever
on May 30th 2017
Genres:
Contemporary Romance
,
Family Rivals
,
Forbidden Love
,
Opposites Attract
,
Small Town Romance
Character(s):
Mobsters
Pages:
337
Goodreads
Buy the Book
Some lines should never be crossed . . . not even for love.

Sloan O'Malley just left her entire world behind-her family, her wealth, and even her real name. For the first time in her life, she's free. She can live the "normal" life she's always wanted. A life without fear. But there's nothing safe about her intensely sexy next-door neighbor.

Jude MacNamara has no room for innocence in his life. Only revenge. Still, he's never been able to walk away from the forbidden, and Sloan-who is every inch of pure, mouthwatering temptation-has forbidden written all over her. Only after it's way too late does he discover the real danger: claiming Sloan as his puts a target on her back. To protect her, Jude is willing risk everything . . . and to hell with the consequences.
***Forbidden Promises Trailer***
***EXCERPT***
"I won't hurt you, Sloan. I promise."
There was no logical reason for her to trust him, but he'd been careful with her up to this point. Perhaps he'd be careful with her with what came next. She nodded mutely, watching as he rolled on a condom that he'd retrieved from his pocket. Her body hummed in anticipation and trepidation, but she didn't let it show as he moved back to join her on the bed.
Jude palmed her between her legs, his big fingers exploring her. It didn't seem possible that he could spark pleasure with a few specific touches, but it didn't take much to have her relaxing, letting him once again take the lead. He kissed her neck. "Feels good, huh?"
"Well, I—oh."
Keep Reading the Excerpt for Forbidden Promises
Keep Reading the Excerpt for Forbidden Promises
Her eyes went wide when he pushed a second finger into her. It stretched her, the feeling not entirely pleasant at first, but he merely waited, pulsing the slightest bit, until pleasure took hold once more. She clutched his shoulders. "Kiss me again. Please."
"You don't have to ask twice." He took her mouth like he owned it—like he owned every part of her. Jude slid between her legs, his body rubbing deliciously against hers. His hard length slid through her wetness, creating a friction that sparked a tide of desire deep inside her. Again? I couldn't possibly…
He nipped her bottom lip and then soothed the slight ache with his tongue. "Ready?"
There was no mistaking his meaning. She nodded. Despite the earlier orgasm and how good it felt to have him moving against her, she was so incredibly empty. Instinct had her hooking a leg around his hips and arching up to meet him, needing more, so much more.
Jude reached between them, and then he was at her entrance. He kissed her, tongue twining with hers as he pushed into her, just a single inch. It was too much and not enough and she couldn't help but thrash, pinned in place by his big body, overwhelmed by her helplessness and what he was doing to her. "Jude, I—"
"Shh. I've got you." He rolled, taking her with him. One second she was on her back, finding it hard to breathe, and the next she was straddling him where he sat with his back against the headboard.
Sloan looked down, daunted by the sheer size of him. "I don't know if this is going to work. You're too big."
He laughed, deep and full-throated, the sound rolling through her like the tide. "You can take every inch of me, sunshine. I promise you that."
***Our Thoughts***
Kassiah: You know how sometimes you can get into a reading slump and need a go-to author who you know will get you out of it? If you don't, I'm happy for you If you do, then I highly recommend grabbing any of Katee Robert's books. She is always a guaranteed win in my book.
Forbidden Promises is the fourth book in The O'Malleys series and I have to admit that I was pretty excited to read Sloan's story. Without being too spoilery, Sloan escaped the shadow of her family and moved to a small town in x to start over. Of course she falls for her neighbor, Jude McNamara, who has ties to her that no one can imagine. There's so much plot here and though this is a standalone, you really will appreciate it more when you read the other books in the series. The families have so much backstory–it's awesome! There are all kinds of reasons for Jude and Sloan not to be together, but will that stop them?
Sloan surprised me. I won't go so far as to say she's my favorite in the series, but I liked her well enough. On to Jude–of course. He's totally hot and all alpha–no doubt about that. He was a little too much at the beginning and their feelings are basically instalove. But! I don't mind that too much because their chemistry is off the charts and crazy hot. He's got a past and she does too, and together, I love them.
Forbidden Promises by Katee Robert is intense and hot, and I can't get enough of this series. I'll definitely be back for more.
Report Card
Cover
Characters
Plot
Writing
Steam
Overall:
4
***GIVEAWAY***
Enter to win an O'Malley heroes candle set + a $30 Amazon gift card. Three (3) runner-up winners will get their choice of an eBook from Katee's backlist.
a Rafflecopter giveaway
Good luck and don't forget to check out the other stops on the blog tour for Forbidden Promises by Katee Robert!
Related Posts