We're so excited to present Chasing Luck, the first book in a brand new New Adult series by Brinda Berry. We loved this book! Let's get right to it with the 411 on Chasing Luck:
Chasing Luck
by
Brinda Berry
Series:
Serendipity #1
Published by
Self-Published
on May 4, 2014
Genres:
New Adult
Pages:
294
Goodreads
Buy the Book
Sometimes surviving doesn't feel lucky. Especially when you're a sole survivor...

At the age of seven, Malerie walked away from a bombing that left hundreds dead—including her mother. When a crazed gunman kills her guardian on her eighteenth birthday, Malerie suspects there may be more to her survival than luck. A mysterious code holds the key to her future, and a reluctant white knight holds the key to her heart.

A loner wearing emotional armor…

Ace is a twenty-year-old entrepreneur focusing on two things in life: financial security and a life without ties. A life that doesn't risk losing the ones who matter. When Ace is hired to secretly act as a bodyguard for Malerie, he faces an unwanted attraction that threatens to sabotage his heart. Can Ace find the courage to love a girl with a death wish?
Kassiah: Malerie's life has been marked by tragedy. When she was seven, her mother's office building was bombed, leaving Malerie as the sole survivor. She's lived a life in hiding. Now eighteen, she believes she's the target when her beloved guardian is killed in front of her. Enter totally gorgeous-beyond-words-jerk Ace, a twenty-year-old security expert who thinks he's got it all together from the beginning.
I don't need some girl thinking I'm her hero.
Ace tries to fight his growing feelings for Malerie. At the same time, he always remembers where he came from and how important security is to him.
"Honesty's my motto … most of the time. When it counts. And this is about the money. You're a nice girl, Malerie, but it's all about a check. Okay?"
As more events unfold, Malerie holds what she believes is a prophecy, foretelling future tragic events in her life. Ace is on a mission to prove that she's worth more than her luck would lead her to believe.
"We are a team. We are going to figure out what to do about these boxes. You said you trusted me. Prove it. I'm telling you we'll solve all this…"
I really enjoyed this book. I loved how there was a mystery woven into the story. It was interesting and kept me guessing right up till the end. I also really liked the characters. Malerie could be annoying, but everything she did made sense. And Ace? He was cocky, protective, and brave. I really loved that he tried to stay away from her and thought he could be so smart about it until he just…couldn't anymore.
"I think you were made just for me."
Chock full of suspense, characters you'll root for, and an intriguing storyline, you can't miss with Chasing Luck by Brinda Berry. I can't wait to read more from this author.
Report Card
Cover
Characters
Plot
Writing
Steam
Overall:
4
***About Brinda Berry***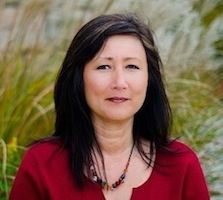 Brinda Berry lives in the southern US with her family and two spunky cairn terriers. She's terribly fond of chocolate, coffee, and books that take her away from reality. She doesn't mind being called a geek or "crazy dog lady". When she's not working the day job or writing a novel, she's guilty of surfing the internet for no good reason.
Find # Here: Website | Facebook | Twitter | Goodreads
***GIVEAWAY***
$25 Sephora gift card or a $10 iTunes gift card
a Rafflecopter giveaway
Good luck and don't miss out on the other stops on the Book Tour for Chasing Luck by Brinda Berry!
Related Posts