You already know that we adore Rebecca Grace Allen, and we were thrilled when we found out about her latest title, Taming Sugar, which is a modern dasy BDSM retelling of Taming of the Shrew. We'll be sharing our thoughts on the book later next week (we loved it, of course), but today we've got Rebecca Grace here with us today to let us know her Top Ten Self Care Resolutions for 2017.
***Rebecca Grace Allen's Top Ten Self Care Resolutions for 2017***
It's January, and for pretty much all of us, that means resolutions. In my busy life, often what falls by the wayside is taking good care of me. That ring a bell with you? Cool! In that case, I'm gonna share with you my top ten self care resolutions for 2017:
Congratulate myself for my accomplishments.
Too often, I berate myself for what I haven't done, instead of thinking about what I've accomplished. Time to think about what I'm proud of. (Enter theme song!)
Make a new recipe without worrying about getting it perfect.
Be creative.
This is something I don't nearly do enough of! In 2017 I will craft more holiday wreaths, color mandalas, and go to Paint & Sip nights.
Be in the moment.
My therapist has a great saying: "If you've got one foot in the past and one in the future, you're in a perfect position to sh!t on today." One of my 2017 goals is to be present as much as possible.
Get more sleep.
Let go of the past.
Elsa is my spirit guide.
Give fewer f*cks.
I read this article, The Subtle Art of Not Giving a F*ck, and it struck a chord. There are only so many f*cks I can give, and fewer of my f*cks will be given in 2017!
Do things that scare me, part 1.
I sing. I'm good at it. I also fear screwing up at it in front of people. I think I must refer to #7 in order to accomplish this. (And then I can do #1 too!)
Do things that scare me, part 2.
I want a tattoo. But I fear needles. And pain. 2017 will be the year I face that!
Be fearless in the pursuit of what sets my soul on fire.
And that means writing, writing, and more writing.
Know what else is happening in January 2017? The release of my next book, TAMING SUGAR! It's a short little novella that I consider a modern day, BDSM, Taming of the Shrew.
***About Rebecca Grace Allen***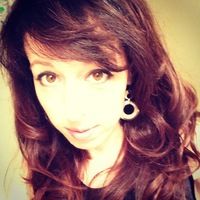 Rebecca Grace Allen writes kinky new adult and hot contemporary BDSM romance. She holds a Bachelor of Arts in English with a double concentration in Creative Writing and Literary Comparison, as well as a Master of Science in Elementary Education, both of which seemed like good ideas at the time. After stumbling through careers in entertainment, publishing, law and teaching, she's returned to her first love: writing. A self-admitted caffeine addict and gym rat, she currently lives in upstate New York with her husband, two parakeets, and a cat with a very unusual foot fetish.
Find Rebecca Grace Here: Website | Facebook | Twitter | Goodreads
***About Taming Sugar***
Taming Sugar
by
Rebecca Grace Allen
Also by this author:
The Hierarchy of Needs
,
His Contract
,
The Theory of Deviance
Published by
Self-Published
on January 9, 2017
Genres:
BD/sm
,
Erotica
,
One Night to More
,
Opposites Attract
,
Retellings
Pages:
75
Goodreads
Buy the Book
After being dropped from the best role she'd ever gotten, actress Roxy Cavanaugh is on a week's vacation to work on her patience. Being holed up in a little cabin isn't doing much to help her, and neither is meeting sexy property manager Hunter Finn. Unfazed by her willful determination, Finn might be the first man strong enough to take her...if they don't kill each other first.

A modern day, BDSM, Taming of the Shrew.
What do you think, Pretties? How excited are you to check out Taming Sugar? What's your resolution for 2017?
Related Posts