You guise. You. Guise. We feel like we've been waiting forever and ever for this book! Rebecca Grace Allen is one of our absolute favorite authors, and we were all ::jumpyclaps:: when we found out she's continuing her Legally Bound Series!
We're so excited to be helping out with the cover reveal today for Her Claim by Rebecca Grace Allen.
***About Her Claim***
Her Claim
by
Rebecca Grace Allen
Also by this author:
The Hierarchy of Needs
,
His Contract
,
The Theory of Deviance
Series:
Legally Bound #2
Also in this series:
His Contract
Published by
Self-Published
on April 1, 2018
Genres:
BD/sm
,
Contemporary Romance
,
Enemies to Lovers
,
Erotica
Character(s):
Businessmen/Lawyers/Entrepreneurs
Goodreads
Buy the Book
She's no princess. He's no prince. Then again, they never wanted a fairy tale.

Cassie Allbright takes no prisoners. A half-Cuban ball-busting attorney, she's too tough to admit what she wants in bed. But tough is the only way to cut it in her high-powered firm, and Cassie doesn't need a knight in shining armor. And she definitely doesn't need Patrick Dunham—an arrogant, chauvinistic man-whore with a knack for pissing her off.

Bound to the helm of his family's publishing house, Patrick is shackled to a life of power and wealth he never wanted. Seduction is his only distraction—his nights of pleasure always temporary, because happily-ever-afters are not for him. But while luring a woman into his bed has always come easy, the high-and-mighty Cassie has never succumbed to his charms.

Their verbal sparring turns to foreplay, but instead of scratching an itch, it only whets their appetites. Patrick gives Cassie a taste of what she's secretly craved, and Cassie's dark desires stir up things Patrick never knew he wanted. Enchanted, he offers to fulfill her most dangerous fantasies. She agrees, with an iron-clad escape clause: her heart is off limits, and so is his.

Funny thing about hearts, though. They have a way of ignoring the fine print.
***About Rebecca Grace Allen***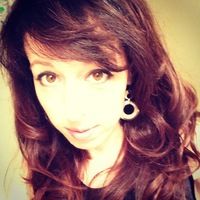 Rebecca Grace Allen writes kinky new adult and hot contemporary BDSM romance. She holds a Bachelor of Arts in English with a double concentration in Creative Writing and Literary Comparison, as well as a Master of Science in Elementary Education, both of which seemed like good ideas at the time. After stumbling through careers in entertainment, publishing, law and teaching, she's returned to her first love: writing. A self-admitted caffeine addict and gym rat, she currently lives in upstate New York with her husband, two parakeets, and a cat with a very unusual foot fetish.
Find Rebecca Grace Here: Website | Facebook | Twitter | Goodreads
What do you think, pretties? If you haven't read the first book in the series, it's not too late! Grab His Contract today!
But wait, there's more!
Want to read an exclusive prequel to Her Claim? A bonus read in both Cassie and Patrick's points of view is available FOR FREE if you sign up for Rebecca's newsletter.
Newsletter sign up: www.rebeccagraceallen/newsletter
But wait, there's EVEN more!
Rebecca has started up a brand spanking new Facebook reader group, Romance Rebels Book Club! The first 50 people to sign up and tell Rebecca what makes them a romance rebel will get a "Smart is the new sexy" pin (US Residents only, sorry!) and automatically be in the running to win a digital Advanced Reader copy of the book!
Romance Rebels Book Club: https://www.facebook.com/groups/1837809649569066/
Related Posts