Welcome to a new Week in Review. Each week, we'll let you know what we've been reading and checking out, whether it's books, movies, shows, or anything else 🙂
Sherry: Let it be said that if you are NOT watching Outlander then go, run, NOW & start. This show just gets better and better IMO. It is probably the sexiest, most sensuous show I've seen on TV. The chemistry between the two leads playing Claire & Jamie is give me chills, curl your toes, to die for. This week SPOILER ALERT:
View Spoiler »
We find out that there is another woman from the future even further in the future than Claire. The last we saw Geillis, she was being dragged to be burned as a witch, as Claire figures out that she's from the future as well. I for one don't think we've seen the last of her. I think something happened to save her. Just a thought. But, then OMG Claire tells Jamie the truth about being from the future and damned if that hunk of a man believed her. I mean he gives trust, faith & love a new name & it's Jamie. He just believes her, as unbelievable as it is. I did love the ending of the conversation when he tells her that it would have been easier if she were a witch .. LOL .. he's funny to – like I said "to die for." Then one of the most sensual love scenes I may have ever seen comes next as Jamie wakes up Claire as they sleep out in the woods by manually stimulating her and when she says, "I want you inside me," he says, "No, I want to watch you," and then he proceeds to do just that. The look in his eyes – yep you guessed it – "to die for." As if this guy hasn't already proven himself to be THE MAN, he takes her to the place where she can go home. He loves her enough to let her go – back to her future life. You can tell it kills him to let her go, but he's willing to do it. I was screaming at the screen, "NOOOOOOOOOOOO don't go back, stay there and love that man." And she DOES – stay that is – DIES!!! « Hide Spoiler
Again – Go Watch this Show. And to the person here who told me to watch this show, a thousand Thank You's. I'm thinking about reading the books. Are they as good? I assume better, not that I can see that possibility, but books are usually better. So perhaps.
Scandal – WAIT did that just happen??????? SPOILER ALERT:
View Spoiler »
Did they really just kill Jake???? Noooooooooo!!!! I mean, not that I wanted Jake with Olivia, but I didn't want him dead, I'd say he was probably the closest person able to defeat B613, so freaking NOW WHAT! The only criticism I have is that I don't think Olivia would have fallen for that new boy toy, I had him pegged from the beginning as a bad guy, she would have too. Daddy Pope is one bad dude and I can't wait to see his comeuppance. This show is so good and I'm scared already about the finale coming in a few weeks. I have a feeling there are more deaths up ahead. Grits teeth! « Hide Spoiler
Now let's talk about The Vampire Diaries, I'm seriously not happy that Nina Dobrev is leaving the show and I'm not sure how it will go on without her. I'm still gonna watch, but I just don't know if I can live without my Delana.
What else have I been doing? Taxes taxes taxes. Thank goodness they are finally done and I can go back to a normal life. I'll come back later if I watch something I have to talk about. Til then Have Fun, Pretties!
Betsy: Sherry, I love Outlander. The books are amazing. I have read Outlander at least 5 times, Voyager almost as many. The audiobooks are terrific as well. Davina Porter, the narrator, is incredible. The books can be dense; I will give that warning, but contain so many brilliantly constructed scenes and dialogue that will have you tearing up regularly. I really love the show as well. The two actors who play the main characters are fantastic, just fantastic. Last week's show contained one of my favorite scenes, actually two of them. Speaking of the stones, I saw some very interesting comments from non-book readers. Some of them were confused by the scene at the stones. One person even posted she thought Claire had gone to say goodbye to Frank and come back. *dies laughing* Revolving door stones. hahahahaha. But yeah, some confusion amongst the masses. My only complaint was that I felt there was a bit too much witch trial and not enough of the scene at the stones and the reunion. Sherry, I have read that one scene over and over and over. One of the best scenes ever.
As to reading, well I did read that story that I mentioned last week with a controversial topic. It was a request by an agent/publicist to read for an honest opinion. I'm still on the fence because the premise was way out of my comfort zone. Once I can coherently put words together I will let y'all know what, who etc.
I did finally read the 3rd book in The Raven Boys Series by Maggie Stiefvater, Blue Lily, Lily Blue. I am still TERRIFIED by what's happening to all of them and so worried for sweet Gansey. Dammit. I hate having to wait for the finale and pray to all the gods that I don't get an Allegiant hot fricking mess. PLEASE make this all good. I did enjoy the writing in this book. Maggie has really grown as a writer, not that she was terrible to start with, because she was not, but her prose now is so beautiful and evocative. Just pulls you in, even when you want to hide your head behind a pillow. Or drink a lot. 🙂
I have not done anything remotely pretty in my world so I need some pretty to be spread around. Please and thank you.
Kassiah: I'm still here, still reading. I've made a couple of websites lately, one that will go live this weekend and the other one is Fiction Fare. We're still trudging along with school, though I really just want to be done for the year. I think we'll start a little early next year so we can finish at Spring Break LOL I can't believe it's already MAY!!!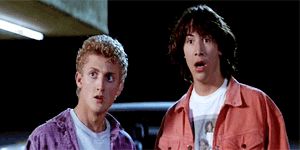 A recent read that totally stands out is Things I Know by Heart by Jessi Kirby, which was absolutely amazing. We posted a review on Swoony Boys Podcast, if you want to check it out.
Have a great week, Pretties, and tell us what you've been up to! Also, don't miss out on all of our Giveaways (here and on Swoony Boys Podcast)!
Related Posts