It's time for another installment of Waiting on Wednesday, highlighting our most anticipated upcoming reads.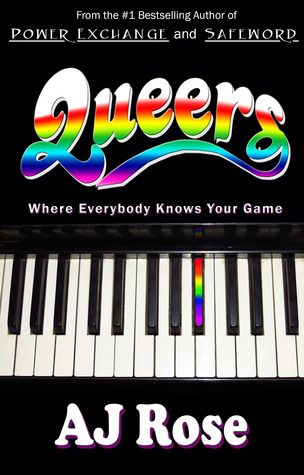 Queers by AJ Rose
Anticipated Arrival Date: January 30, 2014
Within her walls are stories. Love. Laughter. Tears. Lives lived to the fullest, and sometimes cut short before they really get started. She's seen it all, from homelessness to super-stardom, boys dressed as girls, girls dressed as lamps, and boy, does she have secrets she could tell. Her one truth is that everyone who darkens her doors is accepted with open arms and a song.

Her name is Queers, and for one of L.A.'s few dueling piano bars, she has a lot of heart. On her stage, the beautiful voice of Duff McKinley rings so true he captures the shattered heart of his boss, Brad Mosely, who checked out of life three years ago. But even lifelong dreams have untold consequences.

Duff came to L.A. to chase his musical aspirations, but his best friend Garrett Slater accompanied him to chase a wish of his own: finding The One, his white knight. He believes Landon Kennedy fits the bill. Suave, handsome, and powerful in the music industry, Landon can show Garrett a life he's only seen in movies. But even as Landon helps Duff realize his dreams, he brings Garrett into a nightmare he may never leave, one from which Garrett's roommate, Jackson Moriarty, is determined to rescue him. If Garrett repays Jackson by seeing his own charms, so much the better.

Yes, within her walls, Queers has long history. Unrequited love, sinister intentions, fame, fortune, and a group of friends and lovers who would do anything for each other no matter the cost.
Add Queers to Your TBR.
We are HUGE fans of AJ Rose. His books, Power Exchange and Safeword, were among our favorites last year and we are so excited that his new book, Queers, will be out at the end of the month. Set in a dueling piano bar in LA, this story is so different from his previous work, but looks to be even more exciting and even more full of drama and intrigue. What is it about this bar that brings all these people together? What happens between Garrett and Landon? Will Duff achieve his dream? With the way AJ weaves a story, there is no telling where this one will go and we CAN'T WAIT to find out!!!
Check out the Trailer:
So let us know: What are you waiting on?
Related Posts