It's time for another installment of Waiting on Wednesday, highlighting our most anticipated upcoming reads.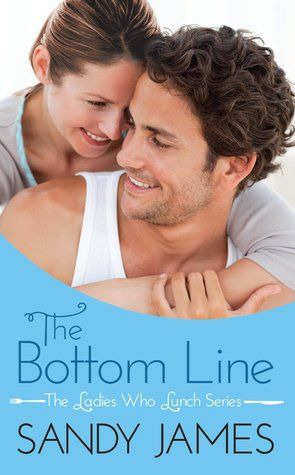 The Bottom Line by Sandy James
Anticipated Arrival Date: 5/6/2014
When life gets tough and love is hard to find, four friends take their troubles to lunch. Surviving a failed marriage and an illness that almost takes her life, high school teacher Mallory Hamilton needs the Ladies Who Lunch more than ever . . .

After a year of upheaval, Mallory has had her fill of change—with one exception. Her house is a disaster, and she wants it fixed. Hiring a contractor to finish the projects her ex-husband started will help her banish the past so she can return to the life she had before everything went awry. But her contractor is sexy, sweet, and single, which threatens the peaceful, solitary life Mallory has planned for herself.

Ben Carpenter has had a hard time raising his daughter without his ex-wife's help. His new client's projects will give him the extra income he needs, not to mention afternoons alone with a gorgeous woman. Though their attraction is undeniable, Ben sees the fear and pain hiding in Mallory's beautiful eyes. But how can he help her if she won't let him in? Ben can fix just about anything—but can he fix Mallory's broken heart?
Pre-Order The Bottom Line Here

♥

Add The Bottom Line to Your TBR.
So let us know: What are you waiting on?
Related Posts