It's time for another installment of Waiting on Wednesday, highlighting some of our most-anticipated upcoming reads.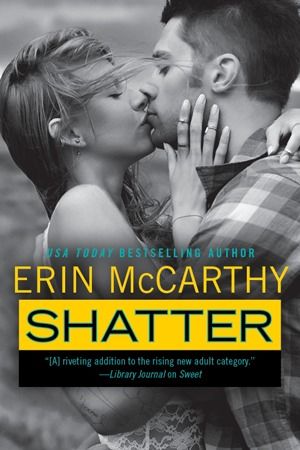 Shatter by Erin McCarthy
Anticipated Arrival Date: 9/2/2014
From the USA Today bestselling author of True, Sweet, and Believe comes a tantalizing New Adult novel about finding love in the most unexpected ways…
Kylie Warner prides herself on being optimistic, but after finding her best friend in bed with her boyfriend and flunking chemistry, her upbeat attitude has taken a dive. Even an impromptu hook-up with her sexy new chemistry tutor only brightens her mood slightly. After all, it's not like she'll ever see the tattooed scholar again…
While he's a whiz at complex equations, Jonathon Kadisch has trouble when it comes to figuring out women. So when Kylie tells him that she's pregnant after their night of passion, he's at a complete loss. He's prepared to be a good father—unlike his own deadbeat dad—but he's less prepared to fall for the genuine and alluring blonde bearing his child.
With emotions running high, Kylie wonders if Jonathon's devotion is out of growing love or looming obligation. And when heartbreak threatens to tear them apart, Jonathon will have to fight for the only girl who's ever made him feel whole…
Pre-Order Shatter Here

♥

Add Shatter to Your TBR.
So let us know: What book are you anticipating this week?
Related Posts