It's time for another installment of Waiting on Wednesday, where we give you the 411 on the books that we can't wait to read.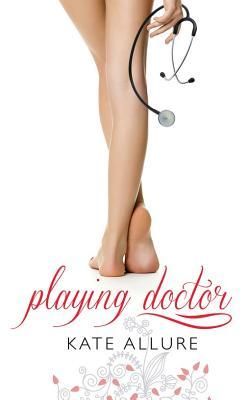 Playing Doctor by Kate Allure
Anticipated Arrival Date: 1/6/2015
The doctor is in, and ready to fulfill deep fantasies in this sexy, super-charged erotic romance anthology
"Seize the Doctor": Nikki Woods is mortified to see cocky, gorgeous Dr. Hunter Sterling again after rejecting him at a bar-now she's virtually gift-wrapped in his office, and he can't take his eyes off her…
"The Intern": As a favor, Dr. Lauren Marks agrees to take on an intern, and is shocked when Courney Sinclair turns out to be a gorgeous-and single-young man…
"My Doctor, My Husband, and Me": Happily married Valerie meets the sexy surgeon Dr. Luka Czerny when she goes in for a consult, but she can't fulfill her attraction unless her husband agrees to join…
Pre-Order Playing Doctor Here

♥

Add Playing Doctor to Your TBR.
So, like totally tell us what's got you bouncing in anticipation this week. What are you waiting on?
Related Posts