It's time for another installment of Waiting on Wednesday, highlighting our most anticipated upcoming reads.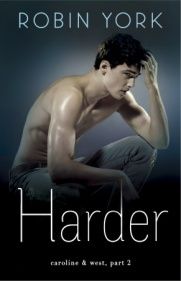 Harder by Robin York
Anticipated Arrival Date: 7/1/2014
In Robin York's provocative New Adult novel, two young ex-lovers find themselves together again in the shadow of tragedy—and an intense, undeniable attraction.

Caroline still dreams about West. His warm skin, his taut muscles, his hand sliding down her stomach. Then she wakes up and she's back to reality: West is gone. And before he left, he broke her heart.

Then, out of the blue, West calls in crisis. A tragedy has hit his family—a family that's already a fractured mess. Caroline knows what she has to do. Without discussion, without stopping to think, she's on a plane, flying to his side to support him in any way he needs.

They're together again, but things are totally different. West looks edgy, angry at the world. Caroline doesn't fit in. She should be back in Iowa, finalizing her civil suit against the ex-boyfriend who posted their explicit pictures on a revenge porn website. But here she is. Deeply into West, wrapped up in him, in love with him. Still.

They fought the odds once. Losing each other was hard. But finding their way back to each other couldn't be harder.
Pre-Order Harder Here

♥

Add Harder to Your TBR.
So let us know: What are you waiting on?
Related Posts