It's time for another installment of Waiting on Wednesday, where we give you the 411 on the books that we can't wait to read.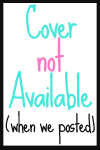 Blindside by Lia Riley
Anticipated Arrival Date: 9/1/2015
Summary
Pre-Order Blindside Here

♥

Add Blindside to Your TBR.
So, like totally tell us what's got you bouncing in anticipation this week. What are you waiting on?
Related Posts