It's time for another installment of Waiting on Wednesday, where we give you the 411 on the books that we can't wait to read.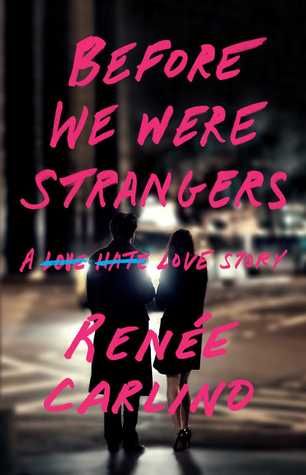 Before We Were Strangers by Renée Carlino
Anticipated Arrival Date: 8/4/2015
For fans of Jojo Moyes and the movie Before Sunrise, a sweeping love story inspired by a real-life missed connections story, from the USA Today bestselling author of the romantic women's novels Sweet Thing, Nowhere But Here, and After the Rain.
During their senior year of college, in an NYU dorm tucked into the heart of the East Village, Grace and Matt struck up a friendship over Jeff Buckley, Pearl Jam, and the Ramones. She was going to be a world-class cellist and he was going to be a famous photographer, their paths destined to diverge after graduation.
Even after an afternoon pub crawl ended in their drunken, spontaneous wedding, their visions for the future never overlapped enough for them to be together. The summer after college, he left his "ex-wife" on good terms and went to Brazil to work for National Geographic. They vowed to stay in touch and see each other soon.
They never did.
Fifteen years later, back in New York City, Matt sees Grace as she boards the J train. They're both different in a hundred ways, and yet they're still the same. But just as they recognize each other, just as he understands what he left behind all those years ago, the train pulls away. His only recourse is to send a missed connections letter out in the world, and hope she remembers where to look.
Pre-Order Before We Were Strangers Here

♥

Add Before We Were Strangers to Your TBR.
So, like totally tell us what's got you bouncing in anticipation this week. What are you waiting on?
Related Posts