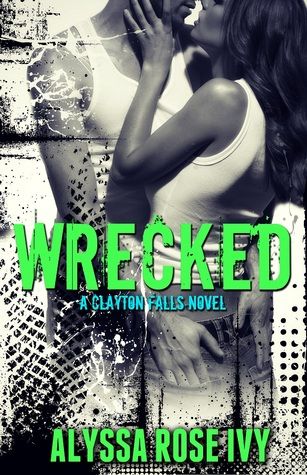 Wrecked
by
Alyssa Rose Ivy
Also by this author:
Shaken Not Stirred
Series:
Clayton Falls #3
Published by
Self-Published
on April 24, 2013
Genres:
Contemporary Romance
Pages:
285
Goodreads
Buy the Book
When your past catches up, it's time to stop running.

Jake Mathews messed up yet again— but this time his misstep lands him in the hospital. He wakes up to find the girl of his dreams and the memory of having his deepest secret revealed.

Emily Taylor needs a break. She's been working double shifts as a nurse just to pay the bills while trying to heal a broken heart. The last thing she needs is to fall for a patient.

Strapped with community service and the knowledge that he's disappointed everyone in his life, Jake is determined not to let Emily slip through his fingers. Emily wants Jake, but can she really open herself up to heartache again?

Kassiah: I haven't read the other two books in the Clayton Falls series, but that didn't keep me from understanding what was going on in Wrecked. Former high-school legend football player Jake Mathews is a 23-year-old who makes a mistake–he drinks and drives. And gets in a terrible accident. Thankfully, no one else is hurt, but Jake is in ICU for some time. While there, he meets his nurse, Emily, and is instantly smitten.
"Are you going to be my nurse the whole time I'm here?"

"I don't think you'll be staying in the ICU much longer so you'll be moved to another floor. Of course, that all depends on what the doctors say. It should only be another day or two at most, but you'll have me again tonight."

I decided not to mention how else her comment could be interpreted. "In case I'm not here later, I better get your number now."
Because of his accident, Jake gets a DUI and can't drive for a year, but he doesn't let that get in the way of pursuing Emily. She likes him, too, but she's got a secret, and she doesn't know if Jake will still want her after he finds out. Fortunately, there's not much emodrama in this quick read.
I liked a lot of things about this book. I liked the setting and the characters. I appreciated that Emily (especially) questioned the authenticity of Jake's feelings, and I enjoyed the way their relationship unfolded.
"I like you too."

He smiled. "I figured that out when you kissed me back."

"I could have just been so surprised that I didn't know how to react."

"Let's make sure." He leaned over and kissed me again.
Jake was sweet and seems to be different than he was before. There were some issues for me, some of which definitely would have been solved if Ivy had gotten a real editor. Aside from that, I felt like Emily and Jake were a little wishy-washy. She questioned whether they were serious, even after they exchanged ILYs and spent pretty much all of their free time together. There's some drama toward the end concerning her brother that felt like it was just thrown in there for added something. I liked getting the dual-POVs, but at times I felt like Jake had some unrealistic reactions. All of that would have been fixed by an editor, though.
Overall, I really enjoyed this story and I will definitely be checking out the other books in the series. Check it out, Steamettes. Wrecked is a quick read with just the right amount of both sweet and steamy.
Related Posts