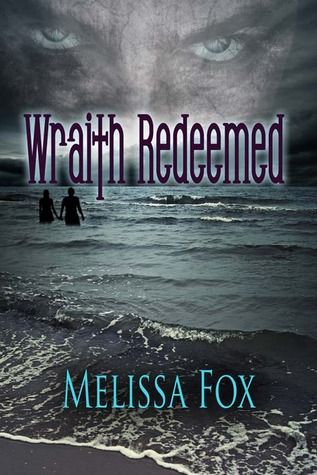 Wraith Redeemed
by
Melissa Fox
Series:
Wraith #1
Published by
The Wild Rose Press
on October 27, 2012
Genres:
Paranormal Romance
Pages:
291
Goodreads
Buy the Book
Demon-slayer Conor O'Shea is about to engage in the most dangerous encounter of his life—facing the woman he scorned.

For years, Merry Bradbury's world revolved around Conor O'Shea. After his sudden betrayal leaves her alone and heartbroken, she comes home to settle her past and move into the future. The last person she expects to see is Conor.

Conor never wanted anything more than forever with Merry. Discovering he is a Wraith warrior, honor bound to fight demons, destroys that plan. Merry is his Amorta, his one true soul mate, but he leaves to keep her safe from the evil that stalks him.

Eight years later, Conor's worst fear is realized, and he returns to defend Merry from his enemies. Can he save her from an unspeakable fate and reclaim her heart? And if he does, will Merry be able to accept all that he is?

Sandi: Mysterious background. Sensual man. Weapons. Secrets. Broken hearts. Shared past. Feisty, beautiful heroine who lives with a lingering sorrow.
The ingredients are all there for a story that will get your attention and make you want to wrap yourself up in the characters, aching for them to get figured out and renew their love with one another.
Melissa Fox's debut novel, Wraith Redeemed, is an intriguing beginning to her Wraith series. There are some terrific elements here and I enjoyed them.
One of the most intriguing aspects of this book is the mythos to which we readers are introduced. The hero, Conor O'Shea, is a Wraith and can become smoky and immaterial at will to pursue demonic forces that work evil in the lives of mortals. Pretty cool, yeah? And Brimstone, his horse, changes with him, making them a dynamic pair. I love this. We read about different levels and varieties of demons and other evil creatures such as revenirs, which are as vampires. Dangerous and deadly.
I also very much enjoyed the hero's good friend, Jonas Grey. Another Wraith like Conor, Jonas is strikingly attractive and a force to be reckoned with as well. He, too, has a sorrowful past, involving his lost Amorta.
The concept of the Amorta also very much captures me, because I love the idea of a bonded relationship of the supernatural variety. The Amorta is a love-bond between a Wraith and his mate, and for Conor this bond is found in the girl who had been the love of his life since his teens, Merry Bradbury.
He claims her, in one of the steamy scenes that Melissa Fox brings to this definitely 18+ book.
"You know perfectly well why I didn't do this last night," Conor growled, returning to his task. He was surprised it had taken so long for Jonas to mention the subject. The other Wraith wasn't known for his restraint.

"The Claiming of an Amorta doesn't go unnoticed." Jonas's tone turned serious. "The energy the two of you created was bound to have been sensed, and not just by me."
Yes, Conor's love is in danger because she is close to him. Conor's vulnerability is directly linked to Merry and his enemies will do anything they can to get to her. And to him.
The plot of this first book is fairly straightforward, which makes it comfortable. The demonic forces at work in the story lend that edge of danger that can captivate. Melissa Fox brings us some strong supporting cast members in Merry's sister and brother-in-law as well as Conor's housekeeper (who has known Merry since the lovers were quite young). Add Irish accents, horse breeding, and multiple romantic, erotic encounters, and this should be a winner.
There were some aspects, though, that did not captivate me as I was hoping they would. Merry's character is quite underdeveloped in many respects beyond the "Do I forgive Conor for abandoning me eight years ago or don't I?" and her pain at the death of her mother. I had little sense of who she was beyond the specific setting of this story—which took place while she was away from her usual life and the boyfriend (famous football player) with whom she had just ended things. It was as if Merry only lived in this setting, which might have some deeper meaning in terms of her character, but it left me less than fulfilled as I felt I didn't know her very well. And the former boyfriend is brought into the mix for no real discernible reason except to make Conor jealous—an unnecessary few moments that didn't play out as really amusing or at all tense.
Also, I confess, I like watching a romance play out. The tension of a first meeting, the "will-she-if-he" of the first kiss and, if the book is that kind of book, watching the steps that lead to intimacy. I enjoy feeling with a couple as they learn about one another and fall in love. In this book, all of that has gone on before we begin, and we meet estranged lovers who have some tense conversations of the "You have to trust me!" "How can I?" type before they acknowledge openly that they are it for one another.
However! I have heard from Melissa Fox (who was kind enough to chat on twitter) that the second book brings us a relationship just like the type I'm craving for Jonas Grey. I look forward to reading it and delving further into this world that she has envisioned for us. I've read other stories from this author online and know that she rocks the romance in a big way.
I encourage you to take some time to meet Conor and Merry (and Jonas!) and enter their paranormal world.
Related Posts