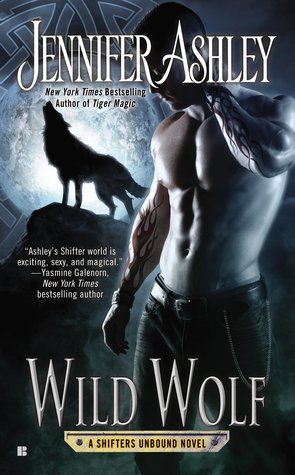 Wild Wolf
by
Jennifer Ashley
Also by this author:
Feral Heat
,
Scandal and the Duchess
,
The Scandalous Mackenzies
Series:
Shifters Unbound #6
Also in this series:
Feral Heat
Published by
Berkley
on April 1, 2014
Genres:
Fantasy
,
Paranormal Romance
Pages:
294
Goodreads
Buy the Book
In the latest Shifters Unbound novel, a man has resigned himself to a life half lived. But a beautiful, courageous woman has him longing for something more…

Graham McNeil knows that his pack is unruly, but he's not sure he can take the next step toward Shiftertown stability—choosing a new mate. After losing his mate and son long ago, Graham has worked hard to keep his heart in check. And even if he was inclined to bind himself again, his girlfriend, Misty, is human—a fact that won't sit well with Graham's old-fashioned wolves.

But Graham is up against a new enemy, one who could spell danger and death to all of Shiftertown. Graham must now defend his leadership and save Misty, the woman he has grown to love—before Shiftertown is pulled into an all-out war.

Betsy: I recently read my first book in Jennifer Ashley's Shifters Unbound Series, Feral Heat, and was intrigued enough to read the latest book in the series. For those of you unfamiliar with the series, it is interesting mix of shifter/Fae mythology and stars some really hot alpha male types. At least the two I've read so far have. 🙂
Wild Wolf introduces us to Graham, a wolf shifter who has been brought in, along with the remnants of his pack, from Montana where they were living wild in relative freedom. In this world it appears that for reasons I'm not exactly sure of, humans find shifters dangerous and have herded them into 'shiftertowns' reminiscent of enforced ghettos. They have also collared them to shock them into submission when they are in danger of shifting.
Now Graham– well, I just love Graham. He's older, suffered the losses of his mate and newborn child and been forced in from the wild to live on the sufferance of Eric Warden, the leader of this Shiftertown and the father of Jace who was introduced in Feral Heat. It is an uneasy alliance that is held together by force of will and the flexibility and understanding of Eric's leadership. Graham's a grumpy, grouchy, crankypants guy who does not suffer fools gladly. He spends much of his time putting out the fires caused by the antics of the more wild members of his pack. He's tired and out of sorts. His prickly exterior hides a tender heart in sore need of soothing. He knows he needs to mate to solidify his leadership and provide future heirs, but frankly the whole prospect just makes him testy.
Entering this picture is Misty. A young human woman who runs her own florist shop and has an entirely healthy interest in the attractive shifter she meets at the local shifter bar. Now, Misty is no shifter groupie, just a normal woman who finds Graham very attractive in his gruff way. And really, who wouldn't? She knows that any chance of something more permanent with him is remote. He's been honest about the fact that he needs to choose a shifter as his mate, not a human. But still, Misty lets the friendship develop along with a deep attraction that she tries, mostly unsuccessfully to ignore.
This story reveals more of the Fae lore that is woven into the world-building in this series. The Fae are often at odds, bar a few more solid citizens, with the shifters in this book. In fact they are the main antagonists and very dangerous foes. Graham becomes involved in a hostage rescue situation involving Misty and in doing so puts himself in thrall to a very nasty piece of work Fae warrior.
Graham fights his feelings every step of the way and Misty is no help at all in this endeavor. She wants him to fail at this badly and oh, brother, does he. Spectacularly so in fact. The steam was rising from my Kindle, needed wipers for my glasses. LOL. Seriously though, well done and the eventual resolution between them was amazing and heartwarming.
But there are bigger problems to fight like a potential war with the Fae and Graham's own pack's dissatisfaction with his growing affection for human Misty. Lots of exciting action and paranormal events and two of the cutest wolf cubs/pups? ever. So if you're a paranormal fan or even if you're not, you will enjoy this fast-paced shifter romance with a healthy dose of steam.
Report Card
Cover
Characters
Plot
Writing
Steam
Overall:
4
Related Posts