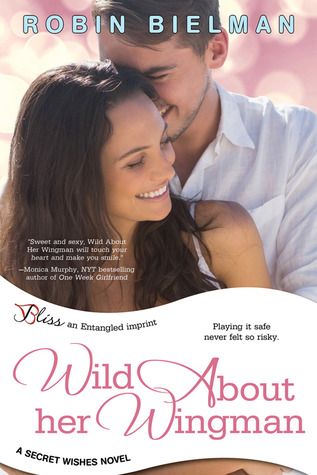 Wild About Her Wingman
by
Robin Bielman
Also by this author:
Her Accidental Boyfriend
,
Keeping Mr. Right Now
,
Yours At Midnight
,
Worth the Risk
,
Risky Surrender
,
His Million Dollar Risk
,
Blame It On the Kiss
,
Falling for Her Bachelor
,
The Best Friend Bargain
Series:
Secret Wishes #3
Also in this series:
Her Accidental Boyfriend
Published by
Entangled: Bliss
on April 14, 2014
Genres:
Contemporary Romance
Pages:
220
Goodreads
Buy the Book
Playing it safe never felt so risky.

Erin Watters is her small town's resident wild child—she doesn't do boring, and after having her heart annihilated, she definitely doesn't do relationships. Her friends have other ideas, though, and when they throw down a matchmaking challenge, impulsive Erin can't ignore it. Even when the annoyingly hot Troy Strieber accepts the matchmaker role…

As a rescue paramedic, Troy's used to watching out for people. Never mind the bet he made with his buddy to play Erin's wingman. But the more time he spends with the sexy, charismatic woman, the more he discovers a side of her she doesn't let many see. Soon what started as an innocent game of matchmaking has them both thinking about the person right under their nose. But Troy's a play-it-safe guy, and he won't let a woman who lives for risk ever steal his heart.
Kassiah: I love Robin Bielman. I love her characters and the way she writes and just everything about her. She's one of my favorite authors for sure, so it's no surprise that I really liked the latest in her Secret Wishes Series, Wild About Her Wingman.
Erin Watters has been burned by an ex and isn't interested in a relationship, but she definitely wants something more than a hookup–a relationship without getting her heart involved.
Maybe it was time to think about finding a guy to hang out with for longer than her three-date rule. It didn't mean she had to fall in love. Just get to know someone beyond what kind of pizza he liked.
A funny set of circumstances and a misguided bet has local rescue paramedic Troy Strieber accepting the challenge of helping her find the perfect guy. He sets up a few dates for her and even goes so far as to chaperone them, too. Of course, you know what happens–their plans backfire and soon Erin and Troy find themselves falling for each other. Problem is that Erin's an adrenaline-junkie hellbent on not giving her heart away and because of his past, Troy isn't willing to be with someone who puts herself in danger. Still, they can't keep their hands off of each other.
Kiss me. Take me. Don't stop until..just don't stop.
What happens when they both find themselves in too deep to turn back?
If given the chance, could he accept her recklessness? Could she live with his safety-first mentality? Was she ready to take the risk?
I liked these characters and this story. Both of them have pasts that have defined who they have become, but I love that neither one of them lets that stand in the way of being happy. I loved Troy–he's strong and handsome, but he's sweet and gentle, too. I love the tenderness he displayed with his niece (le sigh) and really loved the dirty talk.
"I'd be so caught up in the scent of her, the softness of her skin, her sexy whimpers, that my body would ache to–"
I liked Erin, too, though I thought she was a little juvenile at times. She was fun and snarky and perfect for Troy. She's a thesis student, and I was impressed by the level of research that Bielman must have put in to make her seem so believable.
Even if you haven't read any of the other books in the Secret Wishes Series, pick up Wild About Her Wingman. The perfect combination of sweet and sass, it has a great storyline and characters that you'll be rooting for.
Report Card
Cover
Characters
Plot
Writing
Steam
Overall:
4
***About Robin Bielman***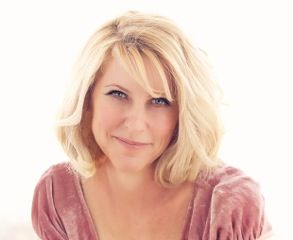 Robin Bielman lives in Southern California with her high school sweetheart husband, two sons, and crazy-cute mini Labradoodle, Harry. When not attached to her laptop, she can almost always be found with her nose in a book. She also likes to run, hike, and dip her toes in the ocean. Filled with wanderlust, she longs to visit many different places and fulfill her curiosity. She wouldn't mind indulging her sweet tooth in every location either. She's a lover of sticky notes, cable television shows and café mochas. Writing is a dream come true, and she still pinches herself to be sure it's real.
Her Secret Wishes series includes Kissing the Maid of Honor and Her Accidental Boyfriend. Her other novels include Worth the Risk, Risky Surrender and Yours At Midnight. She loves to connect with readers.
Find Robin Here: Website | Facebook | Twitter | Goodreads
***GIVEAWAY***
Win a Make-A-Wish necklace!
a Rafflecopter giveaway
Good luck!
Related Posts