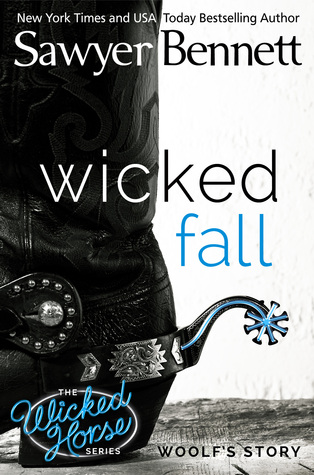 Wicked Fall
by
Sawyer Bennett
Also by this author:
Sugar on the Edge
,
Uncivilized
,
Shaken, Not Stirred
,
Wicked Lust
,
Wicked Need
Series:
The Wicked Horse #1
Also in this series:
Wicked Lust
,
Wicked Need
Published by
Big Dog Books
on July 28, 2015
Genres:
BD/sm
,
Contemporary Romance
,
Erotica
,
Ménage
,
Opposites Attract
,
Player Falls in Love
,
Romantic Suspense
,
Second Chance Romance
Character(s):
Billionaires
,
Cowboys
Pages:
305
Goodreads
Buy the Book
Never in your wildest dreams could you begin to imagine all the filthy and depraved things that go on inside The Wicked Horse. Step inside and Woolf Jennings will make every one of your dirty fantasies come true.

He's covered in a facade of deception. An enticing blend of multi-millionaire and hot-as-hell Wyoming rancher, those that think they know Woolf Jennings admire his abilities to preside as CEO of his family's cattle and oil empire. But only a privileged few truly understand what fuels the glitter of depravity in those gorgeous blue eyes. Only a few know he's opened up a sinfully erotic and private sex club named The Wicked Horse right at the base of the beautiful Teton Mountain range.

Sweet Callie Hayes has returned home to Wyoming and is looking forward to starting her life over again. After a night of impetuosity, she's managed to put herself right in Woolf's line of sight… the man who she foolishly offered up her virginity to years ago and was flatly turned down.

Now Woolf is seeing that Callie is all grown up and has a kinky side to her that leaves him as confused as it does turned on. Worse yet, both Callie's dirty desires and sweet heart are getting under his skin, and making Woolf question everything he's ever believed about himself.

**Warning: this book has sex in it. Lots of sex. Dirty sex. The Wicked Horse Series is a bit different than what Sawyer Bennett normally writes. While you'll still enjoy fabulous characters, a suspenseful story, some witty banter and an epic romance, there's just… a lot of sex. You've been warned.
Kassiah: So. wow. If you want to read some dirty hot stuff, then look no further than Wicked Fall by Sawyer Bennett. Because, yeah. It's scorching hot.
Cattle rancher Woolf Jennings has a secret sex club on his property that's ultra-exclusive and no-holds-barred. He loves his life and the variety the Silo provides him. Enter sweet Callie Hayes, the mayor's daughter who tempts Woolf and knocks him for a loop. Despite his best efforts, he can't stay away from her. When Callie wants to spend time in the Silo, Woolf can barely contain himself. But Callie's father can't handle any scandals, so keeping the activities that go on at the Silo under wraps is paramount. What happens when Woolf realizes he wants Callie more than the life he's leading? Will it be over before it starts.
Sawyer Bennett is one of my favorite writers. With that being said, this story totally surprised me. For as much as there is crazy hotness going on all around, the emotions and bit of suspense were awesome, too. I just expected this to be a lot of PWP, but it wasn't. I loved Woolf and Callie, and I loved the vulnerability they each displayed.
"I always wanted you, Callie, I just didn't think I should have you."
There were some things I didn't love and thought the whole thing with Callie's dad was crazy, but really, I can't wait to read the next book in the series. Sexy, fun, and surprisingly real, Wicked Fall by Sawyer Bennett will satisfy needs you didn't even know you had.
Report Card
Cover
Characters
Plot
Writing
Steam
Overall:
4
Related Posts