Where Sea Meets Sky
by
Karina Halle
Published by
Atria Books
on March 31, 2015
Genres:
Contemporary Romance
,
New Adult
Pages:
384
Goodreads
Buy the Book
A new adult novel that perfectly captures the existential angst of your early twenties with raw wit, fresh insight, and true feeling from a critically adored USA TODAY bestselling author.

Joshua Miles has spent his early twenties spinning his wheels. Working dead-end jobs and living at home has left him exhausted and uninspired, with little energy to pursue his passion for graphic art. Until he meets Gemma Henare, a vivacious out-of-towner from New Zealand. What begins as a one-night stand soon becomes a turning point for Josh. He can't get Gemma out of his head, even after she has left for home, and finds himself throwing caution to the wind for the first time in his life.

It's not long before Josh is headed to New Zealand with only a backpack, some cash, and Gemma's name to go on. But when he finally tracks her down, he finds his adventure is only just beginning. Equally infatuated, Gemma leads him on a whirlwind tour across the beautiful country, opening Josh up to life, lust, love, and all the messy heartache in between. Because, when love drags you somewhere, it might never let go even when you know you have to say goodbye.

Kassiah: Karina Halle is quickly becoming one of my favorite authors. After reading The Pact, I was crazy excited to check out Where Sea Meets Sky, and I think I loved it even more. From the very first line, I was hooked.
I get an erection the moment I first lay eyes on her.
Aspiring artist Joshua Miles is thrown for a loop when he sets eyes Gemma at a Halloween party.
"Who are you?" I ask her, happy that my voice is hard and deep. I hope it makes her think of sex.
Gemma is visiting from New Zealand and is town for only one more night. The chemistry between them is off the charts from the first moment on.
The truth is, I'm torn between wanting to tear her clothes off and fuck her senseless or wanting to sit somewhere quiet and talk to her the whole night. It's a curious war I'm fighting, but I'd be happy with either victory.
Sparks fly and the pair spend an unforgettable night together. So unforgettable, in fact, that Josh can't stop thinking about her and realizes that he needs to do something with his life. He has a few months before school starts back in January, so he decides to head to New Zealand to have an adventure–and hopefully to find Gemma.
I want to know her. I want to get to know everything about her. I want to touch her. Kiss her. Fuck her. Be with her. Just to see if it was everything I remembered. Just to see if it's the same girl in my drawings, or if I conjured her up from thin air.
Meanwhile, Gemma falls back into her old life as soon as she steps off the plane, including back into bed with her ex. She's shocked when Josh finds her and is even more surprised that she invites him to go on a road trip with her, her cousin, and her sort-of boyfriend. And that's where the real adventure begins. Halle takes us through the countryside of New Zealand in an experience so authentic, I feel almost as if I've been there. Lots of things happen, both on the trip and between Josh and Gemma. Though she's with someone, they can't seem to keep their minds off one another. All along, they become closer and learn about themselves as well as each other. What happens when the trip is over and it's time for Josh to head back to Canada?
My fears are of losing this world, of losing her. There's much left to explore–here, in her. I feel like I'll be leaving when things are only getting started.
There were so many things that I loved about this book, so I'll start with the setting. I fell in love with everywhere Josh described and truly hope to visit there myself. Halle perfectly captured the feeling of being a traveler.
"I mean…I don't even know you guys."

"Sure you do," Tibald says. "That's the beauty of traveling. Haven't you caught on yet? There are no strangers here, just friends you haven't met yet."
I loved Josh. I mean, he dressed up as Khal Drogo for Halloween! Any guy who could even hope to pull off embodying that man is aces in my book.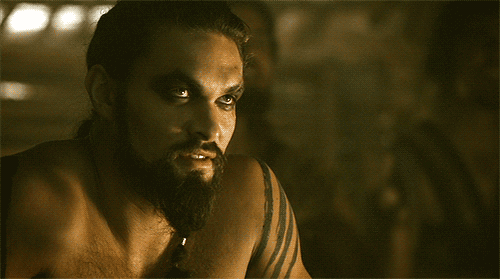 He's a good guy. He's swoony. His tongue is pierced. And he's a fuckhot dirty talker.
"Just tell me. I want in deep. Do you want me deeper?"
I loved all of the people that they met, and I loved Mr. Orange.
So what didn't I like? Mostly, Gemma. Though I feel like I have to like her because Josh dug her so much. She was rude, View Spoiler »even fucking Nick when Josh was around, « Hide Spoiler, and there was a part that I actually put, "Are you kidding me?!?" in my notes because she was being that ridiculous. Also, View Spoiler »I didn't understand why she couldn't be with Josh just because of Nick. She made it clear that she and Nick weren't in a committed relationship. « Hide Spoiler I do have to give her props for liking Anne of Green Gables, and I think her character's journey was authentic but honestly, I think Josh could do a lot better.
Even with Gemma fail, I loved this book, and I'll be reading everything that Karina Halle has ever written. The authenticity of her characters is just unparalleled. With (mostly) likable characters, a realistic storyline, and the adventure of a lifetime, Where Sea Meets Sky is a must read for everyone who loves New Adult. And everyone else, too.
Report Card
Cover
Characters
Plot
Writing
Steam
Overall:
4.5
Related Posts