When Joss Met Matt by Ellie Cahill is one of our favorite books of the year, and we're so excited to participate on the official tour for the book! We've got an awesome giveaway and our thoughts on this amazing story for you today.
When Joss Met Matt
by
Ellie Cahill
Published by
Ballantine Books
on February 24, 2015
Genres:
Contemporary Romance
,
New Adult
Pages:
368
Goodreads
Buy the Book
In the tradition of New Adult superstar Jessica Sorensen, Ellie Cahill's debut novel is a charming friends-with-benefits story . . . with a twist!

What if after every bad breakup, there was someone to help "cleanse your palate"—someone who wouldn't judge you, who was great in bed, someone you were sure not to fall in love with? "Sorbet sex" could solve everything—as long as it never got too sweet.

Joss and Matt have been friends since freshman year of college, meeting one night after Joss is dumped by her boyfriend. After a few drinks, Matt humors her with a proposition: that he'll become her go-to guy whenever she needs to heal a broken heart. In return, she'll do the same for him. The #1 Rule: They'll never fall in love with each other. People scoff at the arrangement. But six years later, Joss and Matt are still the best of friends . . . with benefits.

Through a string of boyfriends and girlfriends—some almost perfect, some downright wrong—Joss and Matt are always there for each other when the going gets tough. No strings. No attachments. Piece of cake. No problem. After all, since they wrote the rules, surely they can play by them. Or can they?

Kassiah: I absolutely loved this book, which surprises me because if you know me, you know that I'm not usually all about characters sleeping with other people. But whatever–I can't help how much I loved it.
Told from Joss's point of view, with alternating chapters between then, when it all began, and now, readers experience Joss and Matt's highs and lows as they realize what they had spent years searching for might have been right in front of their faces all along.
Seven years after their relationship began, Joss finds that she wants more than just a friends-with-benefits arrangement and is heading to tell Matt she can't accept less than everything from him. She reflects back on how they got where they are now.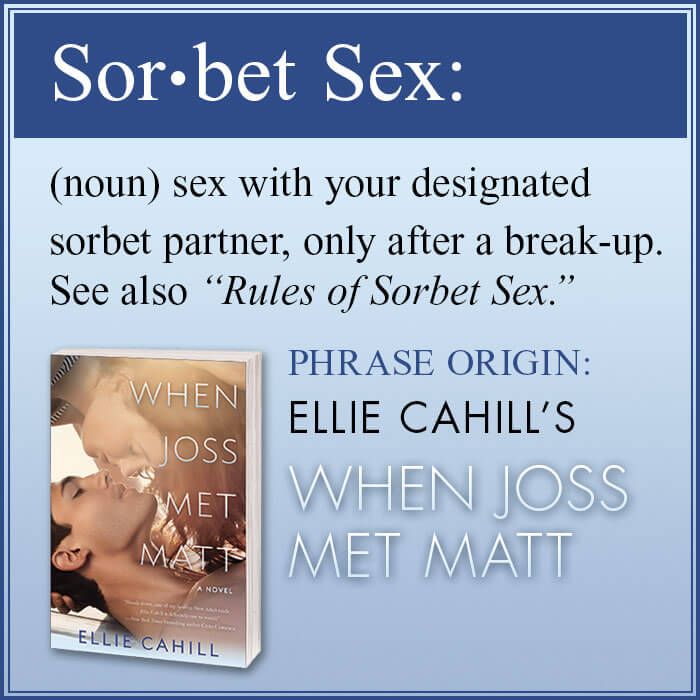 When Joss's boyfriend broke up with her at the beginning of freshman year, her new friend Matt offers "sorbet sex" as a way to get over it.
"And what would [you] get out of this arrangement?"

"A chance to sleep with a cute girl, no strings attached."

"That sounds a little cheap." My stomach got in on the act, stirring with guilt and nerves. I tried to settle it with nothing but will. After all, I hadn't done anything.

"I may be a nice guy, but I'm still a guy. Trust me, sex is its own reward."
There are a lot of ups and downs and lots of sorbet sex as both of them navigate through relationships woes. In order to keep their friendship in tact, they come up with a set of rules, including that they will only hook up after a break-up and that they will spend the night with each other afterward:

All along, both of them question why they aren't perfect for each other since they're best friends and so compatible. Unfortunately, it's Joss who has the hang up.
"Well, something had to happen. One of you was going to get serious with someone else, or you were going to start dating each other."

"No way. He's not my type at all."
I never really understand why, but Joss is the one who thinks their relationship can't be anything other than BFFs/Sorbet partners–until she realizes she wants more.
I wondered why I ever bothered with anyone but him. I liked the sight, the feel, the taste, and the sound of him in bed. I liked how we knew just enough about each other as lovers to be comfortable and move in sync, but not so much that I wasn't strung tight with anticipation every time he tried something new.

…

He was my port in a storm, and I couldn't imagine losing that.
Admittedly, it's not like Matt tells her he wants more, either. Throughout the story, they both figure out some things and go through relationships that make them realize their arrangement isn't working out for them anymore. But will they give up or let themselves become everything to each other?
I loved a lot of things about this book, beginning with Matt. He was sweet and a total stand-up guy. I loved the way Joss and Matt's relationship developed and the fun banter they had. There were some real laugh out loud moments, and I just loved them.
"Matt!" I protested, more out of form than any real indignation. "You've already convinced me to disappear in the middle of my date and gotten me slapped in the face by a crazy woman. Are you seriously gonna suggest I should have sex with you on top of that?"

He made a thoughtful face. "It sounds worse when you say it all out loud."
I loved that this story was hot.
Matt kissed every part of my body that crossed his path: a shoulder, my chin, the palm of my hand. He was equal opportunity when it came to kissing. It was a new experience for me, and it turned me on like crazy.
Also, elevator kissing ftw.

Best friends to more is one of my favorite storylines, so of course When Joss Met Matt is right up my alley. I love that their relationship was sort of backwards, though. There were a few things that I didn't love, mainly that Joss drove me crazy constantly saying Matt wasn't her type. I also found myself wanting to get to the now part more at the end and I was tempted to skip ahead to see what would happen. I'm glad I didn't–some of my favorite moments were thrown in there–but I wanted a more continuous story once we arrived back at the beginning. And I wanted more after the end, but I pretty much always want that.
When Joss Met Matt was a fun, quick read, with angsty moments and hot moments and moments filled with laughter. I can't wait to read more from author Ellie Cahill, and I hope that you'll check out this awesome story.
Report Card
Cover
Characters
Plot
Writing
Steam
Overall:
4.5
***About Ellie Cahill***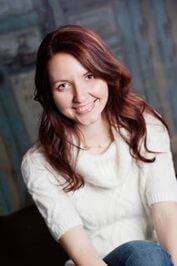 Ellie Cahill is a freelance writer and also writes books for young adults under the name Liz Czukas. She lives outside Milwaukee, Wisconsin, with her husband, son, and the world's loudest cat.
Find Ellie Here: Website | Facebook | Twitter | Goodreads
***GIVEAWAY***
Win One of Ten Copies of When Joss Met Matt by Ellie Cahill
a Rafflecopter giveaway
Good luck and don't forget to check out the other stops on the When Joss Met Matt by Ellie Cahill blog tour!
Related Posts