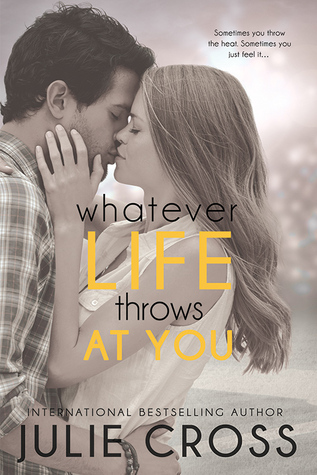 Whatever Life Throws at You
by
Julie Cross
Also by this author:
Third Degree
Published by
Entangled: Teen
on October 7, 2014
Genres:
Forbidden Love
,
New Adult
,
Romance
,
Young Adult
Character(s):
Baseball Players
Pages:
373
Goodreads
Buy the Book
Life loves a good curveball…

Seventeen-year-old Annie Lucas's life is completely upended the moment her dad returns to the major leagues as the new pitching coach for the Kansas City Royals. Now she's living in Missouri (too cold), attending an all-girls school (no boys), and navigating the strange world of professional sports. But Annie has dreams of her own—most of which involve placing first at every track meet…and one starring the Royals' super-hot rookie pitcher.

But nineteen-year-old Jason Brody is completely, utterly, and totally off-limits. Besides, her dad would kill them both several times over. Not to mention Brody has something of a past, and his fan club is filled with C-cupped models, not smart-mouthed high school "brats" who can run the pants off every player on the team. Annie has enough on her plate without taking their friendship to the next level. The last thing she should be doing is falling in love.

But baseball isn't just a game. It's life. And sometimes, it can break your heart…
Kassiah: No words that I can say will even come close to expressing how much I loved this book. #favoriteforever
High school senior Annie's life is turned upside down when dad takes a new job being the pitching coach for the Kansas City Royals. Nineteen year-old baseball rookie Jason Brody is living his dream playing professional baseball, but he didn't bargain for everything that comes with that dream, including keeping up a certain persona for the public. He's solely focused on baseball when his coach's daughter strolls in and knocks him off of his feet. To say a relationship between them is strictly off-limits would be an understatement. Will they let that stop them?
This book is one of my favorite books ever. I loved basically everything about it. The storyline, the characters, the angst, the swoon–all of it. Annie was a great character, and she was so multi-dimensional. She was funny and realistic and totally not a doormat. And Jason Brody? Gah!
He was sweet and swoony and just wanted to make something of himself. I love him so much, I made him spreadsheet official. So back off, ladies 🙂
"All I know is that I want to be the person you and your dad think I am. Maybe even more than I want to be a great pitcher."
This book is perfection. It's great for young adult fans and new adult fans and swoony boy fans, and just everyone. If you haven't read it yet, you really need to grab it. If you have, join me in a re-read.
Report Card
Cover
Characters
Plot
Writing
Steam
Overall:
5
Related Posts