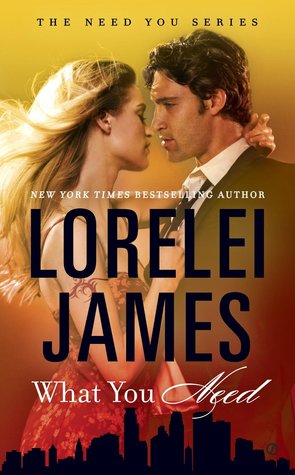 What You Need
by
Lorelei James
Series:
Need You #1
Published by
Signet
on January 5, 2016
Genres:
Boss Employee Romance
,
Contemporary Romance
,
Forbidden Love
Character(s):
Billionaires
,
Businessmen/Lawyers/Entrepreneurs
Pages:
368
Goodreads
Buy the Book
New York Times bestseller Lorelei James introduces a new family for readers to fall in love with in the Need You series. The Lund name is synonymous with wealth and power in Minneapolis-St. Paul. But the four Lund siblings will each discover true love takes a course of its own…

As the CFO of Lund Industries, Brady Lund is the poster child for responsibility. But eighty hour work weeks leave him little time for a life outside his corner office. His brothers stage an intervention and drag him to a seedy night club...where he sees her, the buttoned up blonde from the secretarial pool who's starred in his fantasies for months.

Lennox Greene is a woman with a rebellious past—which she carefully conceals beneath her conservative clothes. She knows flirting with her sexy, but aloof boss during working hours is a bad idea. So when Brady shows up at her favorite dive bar, sans his usual snappy suit, and catches her cutting loose, she throws caution aside and dares him to do the same.

After sparks fly, Brady finds keeping his hands off Lennox during office hours is harder than expected. While she makes him feel alive for the first time in years, a part of him wonders if she's just using him to get ahead. And Lennox must figure out if Brady wants her for the accomplished woman she is—or the bad girl she was
Kassiah: I don't really know how to rate this book because I flounced, pretty early on. I skimmed through a lot of it, but I just didn't love it. I didn't like the characters–they're juvenile and borderline ridiculous. The way their feelings develop is unrealistic, and I figured there are lots and lots of other books I'd rather be reading. *shrugs*
This is my bio. It will be updated whenever Meg writes one for me.
Report Card
Cover
Characters
Plot
Writing
Overall:
Related Posts