We were so excited to be invited to participate in the blog tour for What I Need by J. Daniels. We'll get right to how much we ❤ this book! But first, here's the 411 on What I Need by J. Daniels:
***About the Book***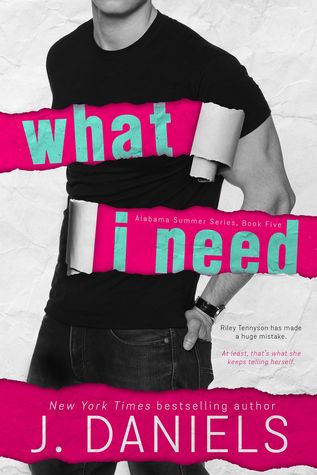 What I Need
by
J. Daniels
Series:
Alabama Summer #5
Published by
Self-Published
on March 5, 2017
Genres:
Contemporary Romance
,
Falling for Best Friend's Sibling
,
Fell in Love on Vacation
,
Friends to More
,
Love Triangle
,
New Adult
,
One Night to More
Character(s):
Police Officers/Sherriffs
Pages:
306
Goodreads
Buy the Book
From New York Times bestselling author, J. Daniels, comes a sexy new STANDALONE novel.

Riley Tennyson has made a huge mistake.

At least, that's what she keeps telling herself.

Showing up to her brother's wedding pissed off and newly single, Riley seeks comfort in solitude and an open bar, until the gorgeous and irresistibly charming CJ Tully makes her a better offer—a wild night with the master of smooth-talking where nothing is off limits.

Riley does what any single woman would do, and a connection is made. One neither one of them can ignore. But when she comes home to the boyfriend she no longer thought she had, Riley buries her secret and begs CJ to do the same.

Forget about each other. It was a mistake. That's all it was… right?

Desires are hidden. Distance is kept. Until one night CJ makes the ultimate sacrifice, and Riley can no longer avoid the man she can't stop thinking about.

Not with him sleeping down the hall…
***About J. Daniels***
J. Daniels is the New York Times and USA Today bestselling author of the Sweet Addiction series, the Alabama Summer series, and the Dirty Deeds series.
She would rather bake than cook, she listens to music entirely too loud, and loves writing stories her children will never read. Her husband and children are her greatest loves, with cupcakes coming in at a close second.
J grew up in Baltimore and resides in Maryland with her family.
Find J. Here: Website | Facebook | Twitter | Goodreads
***Our Thoughts***
Kassiah: What I Need isn't the first book I've read by J. Daniels (Four Letter Word is one of my favorite books), but it's my first experience in the Alabama Summer Series. All I have to say now is #BamaBoysForever! This can totally be read as a standalone and though you'll know what happens with some of the couples, that's actually the way I prefer to roll.
Riley Tennyson is in Nursing School, living with her boyfriend, Richard, who doesn't get along at all with her brother, Reed (the hero in When I Fall). Richard isn't invited to Reed's wedding, and Richard accuses Riley of taking Reed's side against his. So they have a big fight and it seems like they've broken up. Riley goes to the wedding and meets Reed's sexy cop friend, CJ. The two of them hit it off right away and proceed to tear up the sheets all weekend long. Neither of them want it to be a one-time one-weekend thing, but when Riley gets home, Richard apologizes. He says he never thought they broke up–they were just on a break.
Riley, unwilling to give up her history with Richard, feels guilty about how she spent her weekend, but she vows never to let Richard find out and begs CJ to be okay with just being friends.
"I don't keep friends with women who have had my dick in their mouth."
CJ knows they'll never just be friends, but he's willing to bide his time until Riley realizes that they're perfect for each other. Some stuff happens, bringing Riley and CJ closer together than ever. But will it be enough for a forever?
Despite the love triangle aspect that usually drives me nuts, I really loved this book. Riley and CJ had great banter and flirtiness that I couldn't get enough of.
"I'd say God bless you, but it looks like he already did."
I liked how sassy Riley could be, even when she was just a girl trying to make her mark on the world. I loved the friendships that formed here and how excited Riley was to be welcomed into the fold.
My favorite part? Of course it was CJ. He was sexy and hot and knew what he wanted. I love when he calls her Darlin'. I really like him–not just with Riley, but as a man. He's a standup guy.
And of course, he's totally hot. They're hot together.
"Goddamn. You want me rough, don't you?" I ask, watching her cheeks warm. "I was going to take my time," I kiss her skin, "savor you while I make you come every fucking way I can, but you don't want that. You want me wild."

"I want you how I feel."

"How's that?"

"Crazy," she rushes out, licking her lips. "I don't want you to be able to breathe. I can't. I'm…"
I mean, come on. And he has convos with her boobs. And I love it.
There were a couple of things that I didn't like, but I'm not going to spoil. There's a little drama I thought wasn't necessary, but it's new adult, so I was fine with it. I am super excited for the next book in the series, which will feature CJ's "little" brother, Jake, and I will definitely be going back and reading all of the ones I've missed.
There were times I rolled my eyes, sure. But there were a lot more times that I smiled and bit my lip and there were even a few times that I legit laughed out loud, especially at CJ's "resting bitch face." 😂😂😂 A fast-paced read with swoons, friendship, and total hotness, What I Need by J. Daniels should be at the top of your TBR right now.
Report Card
Cover
Characters
Plot
Writing
Steam
Overall:
4.5
Have you read any of the books in the Alabama Summer Series yet? Who's your favorite guy? I really loved CJ, but I have a feeling I'm going to die over Luke!
Related Posts