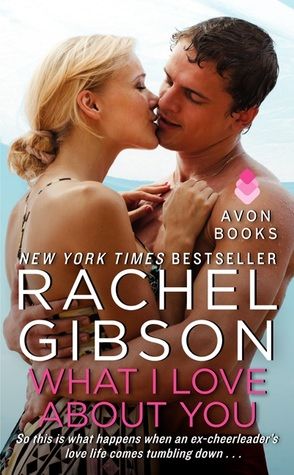 What I Love About You
by
Rachel Gibson
Also by this author:
Just Kiss Me
Published by
Avon Books
on August 26, 2014
Genres:
Contemporary Romance
,
Enemies to Lovers
,
Love After Loss
,
Opposites Attract
,
Small Town Romance
Character(s):
Military Guys
,
Reclusive Heroes
Pages:
384
Goodreads
Buy the Book
New York Times bestselling author Rachel Gibson returns to Truly, Idaho, and to the fate of sexy SEAL Blake Junger

GIMMEE A B-R-E-A-K!

Ex-high school cheerleader Natalie Cooper could once shake her pom-poms with the best of them. But she's paid for all that popularity—her husband's run off with what's left of their money and a twenty-year-old bimbo named Tiffany. Leaving Natalie to manage a photo store and having to see some pictures she, well, really shouldn't.

GIMMEE A S-H-O-T!

Then she comes toe-to-manly chest with Blake Junger. Exiled to a remote cabin in Truly, Idaho, Blake wants nothing to do with anyone. Instead, he's determined to struggle with his demons and win—all on his own. But the last thing he needs is Natalie distracting him with her luscious curves and breaking down the barriers of his heart.

GIMMEE YOUR H-E-A-R-T!
Kassiah: I feel like I've been pretty hit and miss with Rachel Gibson. Some of her books, I love with a fiery passion and some of them are just meh for me. I liked What I Love About You, but I didn't love it.
Ex-cheerleader Natalie is still reeling from the deception her snake of a husband pulled over on her, leaving her pregnant and disgraced after he swindled his clients. She's a mom now and living next door to a reclusive former Navy SEAL, Blake, who is a recovering alcoholic. They cross paths when Natalie's daughter heads over to Blake's and basically befriends him. Sparks are flying but they're so different and obviously want different things out of life. He wants to be left alone and she wants forever with someone who won't stomp on her heart. Will these two stop arguing long enough to fall in love?
So. This book was hot. I loved that aspect of it. Blake says and does things that I'm still thinking about, weeks after having read it. Natalie is authentic and I liked her. My issue with this book was how unrealistic it was. Which I guess is dumb of me I guess, but I don't know. I just couldn't get behind these two as a couple. Just because your neighbor is hotter than the sun is not a reason to jump him as soon as you get the chance. Just typing that made me feel stupid because usually this is exactly the kind of book I want. But for some reason, I just didn't get why they were together outside the bedroom.
What almost made up for it for me though was Blake and Charlotte. I loved how she just basically made him fall for her and it was so sweet. When it's all said and done, though, it just wasn't enough. I just needed more.
Blake's hot enough that if all you want to read is sexy times, then I say pick up What I Love About You by Rachel Gibson. If you want more from a story–character development, a more interesting storyline, and a reason to root for the couple to work things out, keep looking.
Report Card
Cover
Characters
Plot
Writing
Steam
Overall:
2
Related Posts