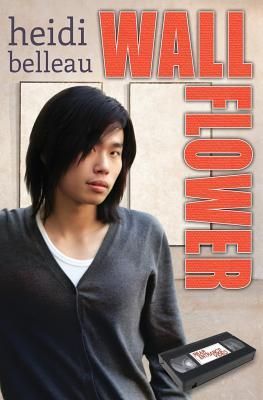 Wallflower
by
Heidi Belleau
Also by this author:
Giving an Inch
,
King of Dublin
Series:
Rear Entrance Video #2
Published by
Riptide Publishing
on October 21, 2013
Genres:
M/M Erotica
Pages:
178
Goodreads
Buy the Book
"This gamer geek has a lacy little secret." Art student and MMORPG addict Robert Ng has always been a loner, but he's recently made it his goal to make more (IRL) friends. Which is how he winds up working nights at Rear Entrance Video, shilling sketchy porn and blowup dolls as a favor to his roommate. The longer he works there, though, the more he realizes he'll never be truly happy until he becomes the person he is online: his female persona, Bobby.

Bobby is cuter and funnier than Rob is, and a thousand times more popular with boys. Becoming Bobby IRL presents its own set of challenges, though . . . especially when you're sitting on the fence between two genders, only one of which has caught the attention of your seriously cute customer/classmate.

Dylan Ford is a six-foot Inuit comic book artist who always says what's on his mind, and screw anyone who doesn't like it. As rough as he appears, though, Dylan has a soft spot for Rob. But will out-and-proud Dylan still want Rob if he's not all man?

Les Joseph: I love it when I pick up a book to read and as I'm going along, nothing happens the way I anticipated. When page after page has me enthralled and going "oh my God" and "no" and of course there's always the "holy shit" thrown in for good measure. That is exactly what happened while I read Wallflower by Heidi Belleau, Book Two of the Rear Entrance Video Series. (You do not need to read the first one to understand this book, but you definitely should read it just because it's that good!) This book will challenge you, it will move you, and it will probably confuse you in a few parts and that's good. It is! Trust me.
Wallflower is the story of Rob Ng, a painfully shy gamer and aspiring artist who is nothing like his online gaming persona, Bobby. Bobby is flirty and fun and happy in his/her own skin. With each glance in the mirror as Robert transforms himself into the cute, bubbly Bobby more an more lines get blurred. On the one hand Bobby likes boys, but Rob does, too, and is quite pleased he has a penis. But on the other, Bobby is all the things Rob wishes he was. Bobby has friends, Bobby can be witty and charming and is not afraid of leading a raid … or Skyping to have virtual sex with a fellow gamer. As more lines get blurred, the more confused Rob gets.
"Rob wasn't a girl. Wasn't born one, not physically and not even on the inside. He just liked … playing one. Dressing up as one.

Rob didn't want to trick anyone, and he especially didn't want to hurt anyone. He just wanted to be a girl sometimes. Because it made him feel good … Being Bobby, part time, at least, felt right."
This story isn't so much one of transgender, but more of gender-bending. Rob likes that he's all boy, he just likes being a girl sometimes, too. Add in Dylan, an in your face Inuit from Rob's art class and it's bound to get bumpy. And bumpy it definitely gets. The dialogue in this book is so spot on. It's witty and sharp with the perfect blend of snark and inner turmoil that really lets you feel every emotion Rob feels as he tries to figure out who he really is. As his relationship with Dylan develops, Rob begins to question more, to be more confused. The story is told exclusively from Rob's point of view and I really enjoyed spending so much time with his thoughts and emotions while he experiences the highs and lows of being a boy who likes to dress and pretend he's a girl.
The subject matter was handled with pure perfection and Heidi Belleau really captured the confusion that Rob felt through his journey. Both characters are so well-developed, you truly get a sense of both of them and this helps to understand when things turn to shit. Confusion and anger are never a good mix, especially when you're struggling with your sexual identity. Add in a bossy sister, nosy roommates, and a boyfriend that has no filter, well it's a recipe for drama. But this drama was perfection. In terms of full-disclosure, there was one moment I was all "oh hell no she didn't" but I sure changed my tune it a hot second. The end of this book is everything a good book should have. I cried, I cheered, I smiled, and yeah, I squirmed a little too because there are some very steamy moments between Rob and Dylan.
I applaud Heidi Belleau for not only having her main characters be non-traditional, but for the topic as a whole. It was refreshing and poignant and I really, really enjoyed it. This book is a definite must read and I highly recommend it.
Report Card
Cover
Characters
Plot
Writing
Steam
Overall:
4
Related Posts