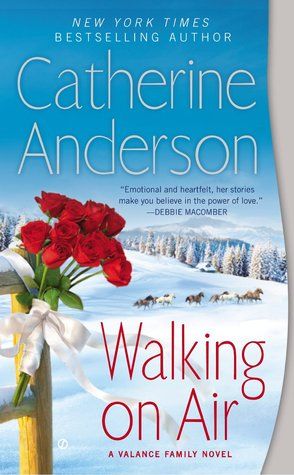 Walking on Air
by
Catherine Anderson
Series:
Valance Family #1
Published by
Signet
on February 4, 2014
Genres:
Historical Romance
Pages:
432
Goodreads
Buy the Book
From "incomparable" (Fresh Fiction) author Catherine Anderson comes a novel of lost souls, second chances, and love everlasting....

Random, Colorado, is just another stop on the road for solitary gunslinger Gabriel Valance. Known for his drinking, gambling, and womanizing, he prefers to remain a stranger to anyone who crosses his path. But when an upstart gunslinger catches Gabe off guard and shoots him down, he regrets his empty, lonely life with his dying breath....

Golden-haired beauty Nancy Hoffman settled in Random after fleeing an abusive past. Caring for her younger sister and working in a hat shop help her to forge ahead, though she remains fearful and mistrustful of men—and marriage....

Their paths will cross when Gabe gets a second chance at life and a divine mission: to sweep Nancy off her feet, gain her trust, and convince her to believe in his love. And in doing so, the once-hardened cowboy may save himself....

Sandi Layne: Let me begin by saying I'm not sure about what genres this should include.
I read (and write) Christian romances. I read (and write) historical romances. On the surface, Walking on Air seems as if it is going to be an historical romance set in Victorian Denver in the United States. But, from the beginning, Our Hero, Gabe Valance (the last name never failed to bring to mind The Man Who Shot Liberty Valance – the movie starring James Stewart and John Wayne), has in mind matters of faith, of religion. God, not to put too fine a point on it.
The blurb says it: Gabe gets a second chance and a divine mission. And he undertakes this mission with determination and a lot of charm. Which I appreciate, even as I cringe sometimes at his language and attitudes.
Things I liked about this book:
Laney. Laney is Our Heroine's little sister. Laney is spirited, smart, and willing to listen and trust Gabe when he confesses his divine mission to her, even though she didn't, originally.
Laney gave him a glare hot enough to melt sand and make glass.
One of my favorite lines in the book.
The details about Our Heroine's life. Her house, her occupation, the cooking, this kind of thing was entertaining. The author writes with lovely touches. I could taste the pumpkin oatmeal and the pies. I smelled the roasting chicken. I could see the way the light spilled in the bedroom.
The storyline—Man Gets Killed but is Given Second Chance by Divine Fiat—is not uncommon. The rough edges to the commission of this second chance didn't sit well with me personally, but that's just a preference thing, and I get that. The resultant time frame added a great sense of urgency to the story and I found myself counting down – as Our Hero was doing himself – to see if he would fulfill his commission before his second chance ended.
The lovely way we see a shift in Our Heroine, Nan, from over-mannered spinster to a smiling, happy woman. This was beautiful. This was, to me, the entire point of the novel and it was carried with believable finesse.
"What if . . . well, what if they erase all my memories of you while you're making love to me?"

Gabriel missed a step, barely managed to catch his balance by pressing his shoulder against the wall, and tucked in his chin to give her a slightly horrified look. "I reckon I'll say, 'Pardon me, ma'am. I don't know how I wound up in your bed. I'm leaving now. So please don't scream.' "

Nan digested that, and then they both burst out laughing.

Laughter, one of Gabriel's gifts to her. And, oh, how glorious a gift it was.
The Ending. Not going to spoil it for you, but know that the ending was as absolutely sweet and sappy as Happily Ever Afters get, which should please a lot of readers. I know I was grinning as I finished the novel.
Things I wasn't really sure about:
Our Heroine. Nan has a basketful of trouble, I grant that. In the middle of the story, we are told that she has always clung to her faith and so on, but that didn't ring true with her demonstrated attitudes and behaviors throughout the story until that point. It was as if she had had to remind herself of her faith in a deliberate manner to take hold of it in a meaningful way.
Which I can understand, yes, but it didn't ring true for me.
The genre issue. Christian fiction does not generally dive into the land of "bad language", sex (even married sex), and such. This story does, in a more or less explicit way. If one is wishing for a work of Christian Historical Fiction, this would be jarring, if not altogether off-putting. If one is wishing for an Historical Romance, the elements of faith that are strongly brought out in this book might clash with expectation.
But is it real-feeling? Yes. I can see it being an authentic kind of story (keeping in mind that I am a woman of faith) that touches the ups and downs of real lives. From the harsh lives of forgotten children to the ideal of falling in love in unlikely circumstances, there is warmth and beauty in this Denver town in winter.
I would recommend this for people who aren't averse to having their expectations shaken, and for those willing to accept the presences of the supernatural in their romance. For those who like their romance heroes to be handsome, brave, and surprisingly caring. And for those readers who will identify with Nan – feeling bound up by fears and standards, only to learn of the joy of life.
Report Card
Cover
Characters
Plot
Writing
Steam
Overall:
4
Related Posts