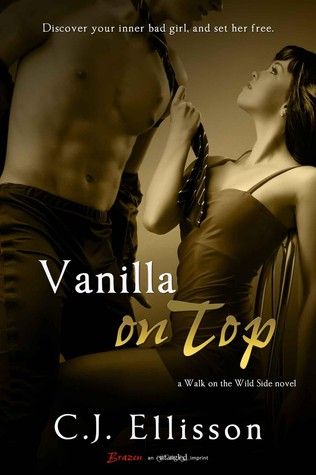 Vanilla on Top
by
CJ Ellison
Series:
Wild Side #1
Published by
Entangled: Brazen
on January 11, 2013
Genres:
Contemporary Romance
,
Erotica
Pages:
279
Goodreads
Buy the Book
Discover your inner bad girl, and set her free…

Heather Pierce is done being a wallflower, both personally and professionally. Desperate to live a different life for one night, she attends a speed dating event. Maybe here, anonymous unless she chooses otherwise, she can become someone new. When a man way out of her league sits across from her, Heather gathers her courage and takes charge of what she wants, secretly fearing he won't desire the real person she's desperate to hide.

Top acquisitions officer and international playboy Tony Carmine is about to close the biggest deal of his career. But then he meets Heather at a speed dating event…and discovers losing control may be exactly what he needs. Her blossoming sensuality occupies his every thought, consuming him with the need to possess the most intriguing lover he's ever encountered—until he walks into the boardroom and sees Heather on the other side of the negotiating table.

Kassiah: I flounced this book at about 12%.
Heather meets Tony while participating in a speed-dating session that her friend drags her to. While there, she has thoughts like:
What am I really doing here?

Sure, I might have a chance of meeting a guy for a midnight hook-up, but really…speed dating?
And that right there made me think right away that I wasn't going to like this book. I'm not into books (or fics) with girls who hook up with guys the second they meet them and then want to judge them for being slutty. He couldn't stick his dick (anywhere) in you on the first day you met him if you didn't let him. Just an observation.
This story alternates points of view between Heather and Tony, and that really was the downfall for me. I love male-POV, but only if it's done well. Readers should not have to check back at the beginning of chapters to figure out who's talking. Tony sounded exactly like Heather to me. And he used words like this:
…my aching cock wept…
and
The sensitive helmet of my cock rubs against my underwear…
and
…the swollen organ…
and
A bead of come leaks out the weeping slit of my cock and trails down the side.
Ew. Do you know a guy who would say this? Dude, you should get that weeping slit checked out by a doctor. js
Anyway, like I said, I flounced pretty early on, and things might have changed dramatically after that. I don't know. And I didn't care about either character enough to stick around to find out.
Related Posts