As soon as we heard about Upside down, we immediately emailed our publicist at Grand Central Publishing and begged her to send it to us. We're thrilled to be included in the blog tour!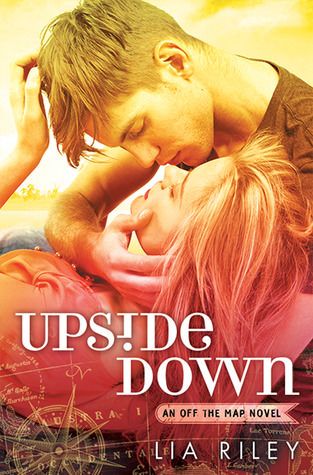 Upside Down
by
Lia Riley
Also by this author:
Sideswiped
,
Last First Kiss
Series:
Off the Map #1
Also in this series:
Sideswiped
Published by
Forever
on August 5, 2014
Genres:
New Adult
Pages:
384
Goodreads
Buy the Book
If You Never Get Lost, You'll Never Be Found

Twenty-one-year-old Natalia Stolfi is saying good-bye to the past-and turning her life upside down with a trip to the land down under. For the next six months, she'll act like a carefree exchange student, not a girl sinking under the weight of painful memories. Everything is going according to plan until she meets a brooding surfer with hypnotic green eyes and the troubling ability to see straight through her act.

Bran Lockhart is having the worst year on record. After the girl of his dreams turned into a nightmare, he moved back home to Melbourne to piece his life together. Yet no amount of disappointment could blind him to the pretty California girl who gets past all his defenses. He's never wanted anyone the way he wants Talia. But when Bran gets a stark reminder of why he stopped believing in love, he and Talia must decide if what they have is once in a lifetime . . . or if they were meant to live a world apart.

Kassiah: After the tragic death of her sister and the resulting breakup of her family, Natalia (Talia) Stolfi needs a change. She finds it when she runs–literally–into Bran Lockhart while she's in Australia studying abroad for six months. Bran is an intense grad student dealing with a year of his own torment. The connection between the two of them is instant and despite their efforts to keep things platonic, their chemistry is combustible.
"I told myself, I ordered myself, that I wasn't going to do this–but here's the funny thing, Talia." His lips brush my eyelids, my cheek, hesitating a fraction of a second over my mouth. "I can't stay away."
Their feelings for each other are very real, but Australia is a world away from Talia's life back in the states. They both know their time together is coming to an end, but they just can't help themselves. What happens when time runs out and Talia has to go?
I really loved these characters and this story. I love that they both push each other–they both make each other see that they're worthy of being loved. They were so believable, and their relationship was nothing short of intense.
"You're perfect." His heart beats a hard rhythm against my cheek.

"Sadly, no."

"Perfect for me, then," he whispers in my ear. "You're only perfect for me."
**swoon**
There are some funny moments along with some heartbreak, and I'm so glad that I found this author! She has a way with words for sure.
He's the kind of guy who in a sword fight would manage to coax a kiss off a nearby girl without missing a thrust.
So what didn't I like? There was a lot of back and forth in this book and some unnecessary drama (WTF Jazza?!?), but I think it was realistic for their ages. Though I felt the ending was a little too abrupt, I'm ecstatic that there will be two more books in the series and even happier that they'll both be out before the end of the year! I will 100% definitely be back for more!
Report Card
Cover
Characters
Plot
Writing
Steam
Overall:
4
Check out this awesome excerpt from Upside Down. It's one of my favorite parts:
***EXCERPT***
"A few meters more, you're almost there."
It's like we're at the end of some old-school adventure tale, one where the heroes are stoic even as the blizzard rages, avalanches fall, and death hovers like a benevolent ghost.
Well, Bran is the hero.
I'm like one of the minor sidekicks who goes down during some important turning point. My death might even inspire the hero on his journey or teach him a valuable lesson. But at this point in the flick, the minor sidekick should be well and truly dead. Not white-knuckling a column of dolerite rock, thighs gripping the stone like it's the world's best lover.
"That's it, Talia," Bran's voice is encouraging. "You're holding tight, that's great. Now, I'm going to need you to release your left hand and reach up a few inches to grab the next hold."
I grit my teeth. The way he talks, you'd think I'm scaling Everest. Or at least Kilimanjaro. Instead—
"'Scuse, us, we'll be by in a tic. That's the way, Andy, right around the lady."
I'm the lady. Andy is a kid who doesn't look a day over seven who scrambles past me in a flurry of Spider-Man shoes and gap-toothed smiles. His parents bring up the rear, smiling up at their wild monkey child with obvious pride.
And they aren't the first group to pass me.
Five Swedish women, a couple, and a guy who looked to be in his mid-seventies have also shot past me during the course of the last quarter hour.
The top is so close I can taste it. Bran is being nothing but encouraging, but below me is a twenty-foot drop. Not enough to kill me, unless I fall with some sort of suicidal intent, but enough to make me feel incredibly uneasy about the boulder field.
Bran eases toward me. "Talia, take my hand."
"Can't let go."
"Talia."
"No." This is it; this is the reason. Bran isn't going to admit it here, while I'm bordering on a panic attack on a trail being conquered by elementary school children and senior citizens, but there's no doubt this is A REASON to lose interest in me. I'm giving him a big capital-lettered reason, but I can't stop. I physically can't let go.
"Talia. Take a deep breath."
"Breath taken."
"Another."
"Okay."
"Give me your hand, no bullshit. I want your fingers in mine. You'll be safe. I'm going to keep you safe. I need you to trust me."
Somehow I do it. I give him my fingers. He assists me up. We're doing this together. My head clears the boulder and I can see the steel marker that identifies the summit ahead. Holy shit, he's right. I'm going to reach the top.
A few more steps, easy now, and we're there. The kid in the Spider-Man shoes munches a Vegemite sandwich. I want to scoop him up in a smooshy squeeze. Except his parents would likely object, so I switch gears to give Bran a long and passionate kiss.
"I knew you'd get here," he says.
"I didn't."
He turns me to see the view, his hands tight around my waist. "Your place is here, Captain, in the sun," he whispers in my ear. "Don't ever forget that."
***About Lia Riley***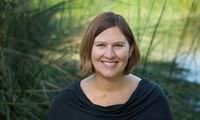 After studying at the University of Montana-Missoula, LIA RILEY scoured the world armed only with a backpack, overconfidence and a terrible sense of direction. When not torturing heroes (because c'mon, who doesn't love a good tortured hero?), Lia herds unruly chickens, camps, beach combs, daydreams about as-of-yet unwritten books, wades through a mile-high TBR pile and schemes yet another trip. She and her family live mostly in Northern California.
Find Lia Here: Website | Facebook | Twitter | Goodreads
***GIVEAWAYS***
Enter to win an I ♥ Australia Prize Pack from Grand Central Publishing in the Rafflecopter Below!
We've also got an eBook Copy of Upside Down to give away to one of our lucky readers! Just leave us a comment and let us know where you would go if you could study abroad?
a Rafflecopter giveaway
Good luck!
Related Posts