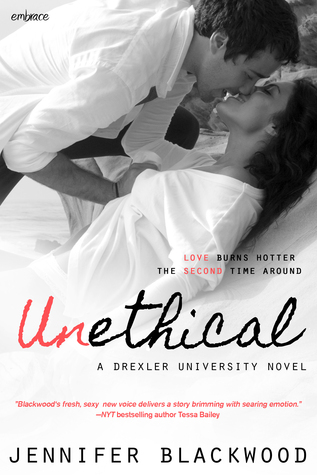 Unethical
by
Jennifer Blackwood
Also by this author:
Foolproof
,
Landing the Air Marshal
Series:
Drexler University #1
Also in this series:
Foolproof
Published by
Entangled: Embrace
on October 20, 2014
Genres:
College Romance
,
Contemporary Romance
,
New Adult
,
Second Chance Romance
Character(s):
Students
Pages:
277
Goodreads
Buy the Book
Love burns hotter the second time around…

Two years ago, the medical world was shaken by scandal, and Payton Daniels's family was at the center of it. The second she graduated, Payton left everything behind―her high school sweetheart, her family, and the controversy surrounding her mother's death—and hid within the anonymity of college. But Payton's ex, Blake Hiller, hasn't forgiven her for leaving, and when he enrolls in the same medical ethics class, she panics. She can't run the risk of him telling everyone who she really is.

As if being at the same university isn't enough, both Blake and Payton land the same internship. Forced together, their passion for each other reignites, but when Payton is asked to testify in her father's high-profile trial, she must choose between risking her acceptance into medical school to help her father, and losing every connection to her past—including the only guy she's ever loved.
Kassiah: Payton's world was crashed and burned two years ago when her mother died. Since then, her family has been rocked by scandal and her father has been in prison, so Payton escaped to the anonymity of college, leaving everyone behind, including her ex, Blake Hiller. Now Blake's back in Payton's life and they can't stay away from each other. Add to that, her father's trial is coming up and Payton still hasn't come to terms with what it all means.
This was definitely an interesting story and had a lot of medical stuff. I liked Payton and pretty much loved Blake. They had great chemistry and I love second chance love stories. I felt bad for Payton and gave her the benefit of the doubt as much as I could. But I didn't understand why they broke up in the first place and because of that, I wasn't really rooting for them to work it out.
I feel like Blackwood bit off a little more than she could chew with this one. There's all of the ethical issues surrounding the storyline that were barely broached upon, plus the history between Blake and Payton, plus the mental health issues of losing your mother, father, and pretty much everyone. I feel like it was all a good idea, but lacking in the execution.
With that being said, I will be checking out more of Blackwood's books. I liked this story, I just wanted more from it.
Report Card
Cover
Characters
Plot
Writing
Steam
Overall:
3
Related Posts