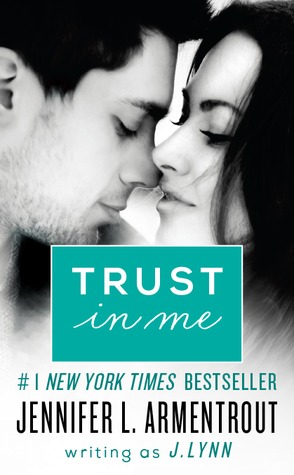 Trust in Me
by
Jennifer L Armentrout/J Lynn
Series:
Wait for You #1.5
Published by
William Morrow
on October 22, 2013
Genres:
College Romance
,
New Adult
Pages:
352
Goodreads
Buy the Book
From the New York Times bestselling author of Wait for You, this is the story of Cam and Avery's sizzling romance as you've never seen it before, told exclusively from Cam's perspective…

Cameron Hamilton is used to getting what he wants, especially when it comes to women. But when Avery Morgansten comes crashing into his life – literally – he finally meets the one person who can resist his soulful baby blues. But Cam's not ready to give up – he can't get this feisty and intriguing girl out of his head.

Avery has secrets, secrets that keep her from admitting the feelings Cam knows she has for him. What will it take to help him break down her barriers and gain her trust? Or will he be shut out of Avery's life, losing his first real shot at the kind of love that lasts forever?
Kassiah: Cam Hamilton is one of my favorite characters ever, despite the fact that I had issues with the editing in Wait for You (thank rob those issues are nonexistent here). I was crazy excited to read this book and was jumping up and down when I got this a month early. I feel like building up all that hype might have set me up to be let down because …I wanted more.
I mean, I loved LOVED Cam. He's still sexy and sweet and totally swoonworthy. I loved getting his point of view and understanding what he was thinking. I still love his relationship with Avery and how everything evolved in Wait for You. This actually made me like her more, which I loved. Unfortunately, there isn't anything new in this book.
I know this is supposed to be Wait for You in Cam's point of view, and I get that. I just wanted more. I can't explain it, I guess. I will be reading any other books in this series and pretty much everything Jennifer L. Armentrout writes, though.
Getting Cam's point of view from Wait for You was awesome, but I wanted some new content in Trust in Me by Jennifer L. Armentrout.
Report Card
Cover
Characters
Plot
Writing
Steam
Overall:
3.5
Related Posts