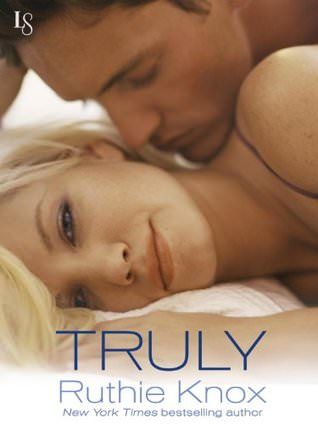 Truly
by
Ruthie Knox
Also by this author:
Making It Last
Series:
New York #1
Published by
LoveSwept
on August 5, 2014
Genres:
Contemporary Romance
Pages:
304
Goodreads
Buy the Book
May Fredericks hates New York. Which is fair enough, since New York seems to hate her back. Just weeks after moving from Wisconsin to Manhattan, she receives the world's worst marriage proposal, stabs her boyfriend with a shrimp fork in a very public venue, and accidentally becomes notorious. And that's before she gets mugged.

At her wit's end, May washes up at a Packers bar in Greenwich Village, where she meets a surly, unhelpful guy who hates her shoes and calls her ex a douche.

His name is Ben. He used to be a chef. Now he's a rooftop beekeeper with anger management issues. She wouldn't even like him, but he reminds her of home … and he knows where to find all the best food in the Village.

She makes him laugh. He buys her tacos and cowboy boots. The longer they're stuck together, the better May and Ben get along … and the harder they fall. TRULY is a quirky, modern New York love story unlike any you've read before.

Betsy: First of all, I want to compliment Ruthie Knox for her willingness to think outside the box and provide a different reading experience that was reminiscent of the fun of reading a work in progress. I read this when it was originally posted on Wattpad. It was so enjoyable and reminded me of times reading a favorite fanfiction that updated regularly and you were filled with the anticipation of what was to come.
So Ms. Knox is rapidly becoming my go-to author for excellent contemporary romance, providing all of the necessary components to a great read: accessible characters, solid plot, well paced events and a whole lotta steam. And she delivers it all here.
The story is essentially the tale of two characters who are stuck in a rut, unable to figure out the right path. On the surface they appear to be wholly unsuited to each other. We have corn-fed, sweet May from the midwest who has moved to Gotham City to live with her boyfriend, a pampered, clueless quarterback in the NFL whom she has just publicly forked and run away from. Yes I did say 'forked' not f*cked and it is brilliantly metaphoric. I will say no more.
And then we have Mr. Crankypants, Ben. A very unhappy, divorced ex-chef who finds himself living in a friend's apartment and bee-keeping (yep, it's true) in the wilds of NYC (read rooftops and back yards). He is very prickly, very unhappy and going nowhere on the fast train.
So how on earth will this ever work? Well, this is one of my favorite reading experiences where a writer takes the reader on a journey of discovery with the characters. And journey they do, both literally and metaphorically. They rediscover themselves and find their way forward. I love that Ruthie allows them to do this without that tired cliche of love fixing everything. Love is the icing on this cake not the panacea for all that is wrong. They are stronger because of it.
And, as is usual, there is incredible building tension that makes their eventual union incendiary. Ruthie Knox is amazingly talented at incorporating emotion with the physical that fairly sizzles with heat.
I strongly encourage readers to immediately read this wonderful book.
Related Posts