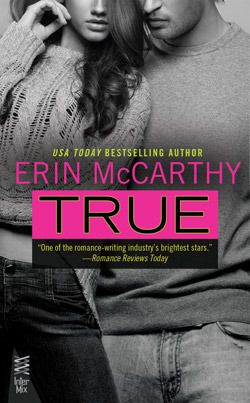 True
by
Erin McCarthy
Also by this author:
Sweet
,
Believe
Series:
True Believers #1
Also in this series:
Sweet
,
Believe
Published by
Berkley
on May 7, 2013
Genres:
New Adult
Pages:
235
Goodreads
Buy the Book
When Rory Macintosh's roommates find out that their studious and shy friend has never been with a guy, they decide that, as an act of kindness they'll help her lose her virginity by hiring confident, tattooed bad boy Tyler Mann to do the job…unbeknownst to Rory.

Tyler knows he's not good enough for Rory. She's smart, doctor smart, while he's barely scraping by at his EMT program, hoping to pull his younger brothers out of the hell their druggy mother has left them in. But he can't resist taking up her roommates on an opportunity to get to know her better. There's something about her honesty that keeps him coming back when he knows he shouldn't…

Torn between common sense and desire, the two find themselves caught up in a passionate relationship. But when Tyler's broken family threatens to destroy his future, and hers, Rory will need to decide whether to cut her ties to his risky world or follow her heart, no matter what the cost…

Kassiah: True is the first book in the True Believers Series by Erin McCarthy, but I read it second (after Sweet). Because of that, I knew what was going to happen in this book. I might have even loved this more because of that!!
Rory is roped into being the fifth wheel by her roommates, Jessica (star of Book Two in the Series) and Kylie (who will be featured in Book Four). She wants to like Grant, the guy her friends seem to have picked for her.
I wanted him to kiss me. Even as I took a huge swig out of the beer he had given me five minutes before, I was thinking that if only he would recognize what I saw, everything would be awesome. We were absolutely perfect for each other. Two totally , sensitive, pale, quiet people.
Things don't work out the way they planned when he tries to force himself on her. She never thought she'd give up her v-card by force. Luckily Tyler, the guy Jessica is hooking up with, stops Grant before things can go too far, but Rory is visibly shaken.
Despite being pretty much as opposite as can be , Tyler and Rory have a connection after that–but Rory doesn't want to pursue it.
The thought was horrifying. First of all, because I couldn't imagine spending time with a guy who my roommate had had sex with. Second, because I was convinced there was no way in hell Tyler was actually interested in me. Third, because I wasn't sure I was interested in him. He didn't seem like my type. While I may not have dated, I certainly had crushed on plenty of guys, both fictional and living, and they tended to be the underdogs, with soulful eyes and a moodiness driven by insecurity.

Hello, Grant.

Tyler was too confident to fit into that box of Broken Boy.
After some convincing from her friends and Tyler proving himself to her, Rory can't help but give him a chance.
"You know why we get along, Rory?"

"Why?" This could be very, very interesting. Or it could be nothing. I sat, tense, waiting to hear his thoughts.

"Because we both see beyond what other people see about us. We both know that sometimes the best things are below the surface. When I look at you, I see this amazingly smart, funny, generous, and beautiful girl. Did you know that?"
Of course, the fates are conspiring against them. Rory hears something about her roommates and Tyler that makes her question the authenticity of their relationship. Not to mention the craziness surrounding Tyler's mom–she's an addict and his main focus in life is keeping it together for the sake of his younger siblings. Rory wants to help and comes to love the family like no woman ever has, including their mom. The situation is beyond messed up, and it comes to a head that causes even more drama for Tyler.
I really liked this story and loved getting to know all of the characters. Rory's sometimes too smart for her own good but she starts to stand up for herself, and I love that.
"Don't tell me what's right for me! You can't decide that for me!"
She was strong, which I appreciated so much. I also really loved Tyler. He was a good guy and even though he knew she was too good for him, he just couldn't help himself with her. He's sweet.
"I never stood a fucking chance, did I? You had me the minute I first saw you…"
Did I mention he's pierced? And he has tatts?
::le sigh::
Erin McCarthy definitely knows how to capture the emotions of this generation. Rory's feelings about her mom were pretty perfect and though there was drama, it never felt contrived.
There were a few things that I didn't like, like the fact that she hits him during an argument. It's just on the arm, but I never like that in any books I read. I also thought that the scheme her roommates concocted was unrealistic. Otherwise, it was awesome.
Sweet and sexy with a great storyline, True is a perfect read for anyone wanting to dive into the New Adult genre. I think you'll really like it!
Report Card
Cover
Characters
Plot
Writing
Steam
Overall:
4
Related Posts