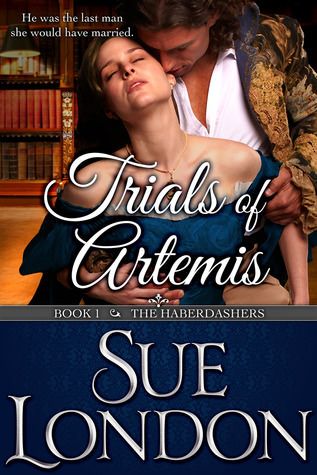 Trials of Artemis
by
Sue London
Series:
The Haberdashers #1
on May 12, 2013
Genres:
Historical Romance
Pages:
143
Goodreads
Buy the Book
Loving Lord Lucifer...

An independent bluestocking sneaks into a library to read rare Greek texts and ends up with a husband instead.

Jacqueline "Jack" Walters loves archery and Greek military history. In her third season she has failed to inspire so much as one marriage proposal and is planning to settle into the quiet life of a spinster.

Gideon Wolfe, Earl of Harrington, has been avoiding marriage but a case of mistaken identity in the library has left him saddled with an argumentative and unwilling fiancee.

Sandi: I love the idea of The Haberdashers – a group of little girls who wanted to have fun and learn things like the boys. That the term itself refers to someone who deals in men's clothing and accessories (the girls didn't know what the word meant when they chose it for their club) is amusing for Regency females.
We meet one of the Haberdashers here, – Jacqueline, who goes by Jack. Okay, the girls took male nicknames as part of their "thing". I personally would have preferred "Jac" but there you go. I'm just a reader. 🙂 Jacqueline is studious and stubborn…and so on. The "exceptional female" Regency trope. Thing is, I didn't feel her character as being consistent. Once she submits to being a wife, it seems as if she does so with a supreme lack of stubborn – she just slides into it. And a character is mentioned from the beginning – Lord Lucifer, with whom Jack is very unhappy – but we don't know why he is mentioned or why he makes her unhappy or anything. I felt that was not well done, craft-wise. So when we find out who this fellow is – much, much later – it didn't work for me personally.
The hero, Gideon, Earl of Harrington, is a good fellow. Pretty much. I would have liked to have understood him better – I liked him, mind, but I don't feel I understood his reluctances about certain issues nor did I entirely understand why he paced his pursuit of Jack the way he did.
Story-wise, I had the feeling about, oh, 70% in, that the story was basically a wrap in terms of the romance. Which was when OTHER THINGS happened that seemed to me to be very oddly timed. From the author's notes, I understand that the politics were known to her and her stance on issues and so on was established, but I had very little sense of this topic – which would be a serious point of contention in the last chunk of the story – earlier on. It felt as if it were dropped in because, wow, the stubborn heroine and reluctant hero had actually managed to rub along quite well, thank you. And let's not forget the Big Dramatic Moment in which Jack gets to show how far superior she is to practically everyone else in the entire novel. I think if the politics had been left out and this particular concern had been given more background? I would have liked it better.
Regarding the "steam" factor – there is a great deal of sexual tension. And the sexual activity itself when we get to it is hot but not at all vulgar.
I think I was dissatisfied, overall, with how the story was told, rather than the story itself. Some judicious pruning here, more watering there, might have let this blossom more fully and without any awkward, half-blown blooms. [And isn't that a bizarre metaphor for me?]
All of that being said, however, I do want to read about Sabre – the next Haberdasher and apparently the "Little Wellington" of them all.
Related Posts