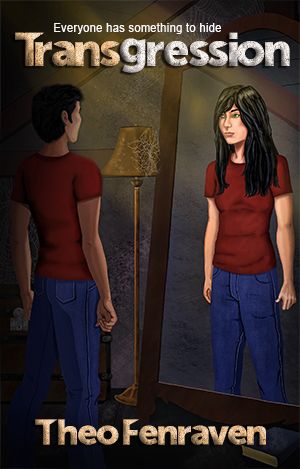 Transgression
by
Theo Fenraven
Published by
Voodoo Lily Press
on October 29, 2013
Genres:
Erotica
,
M/M Erotica
Pages:
195
Goodreads
Buy the Book
Zachary Fox can't sleep.

His acting career is taking off. Public recognition is picking up. Now more than ever, he understands how key reputation is to his success. But his relationship with his co-star, Kris—arranged around publicity rather than genuine feelings—is suffocating him. She once understood his needs, but her demands are beginning to grate with every shrill order she gives.

Zach has a secret. The breakout star of a new medical series, he's been hiding his orientation from co-stars, friends and family, the studio, and his fans.

On the recommendation of a friend, Zach seeks out Sky Kelly, a well-connected herbalist whose concoctions are natural magic, as is her stunning beauty. On the surface, she has it all: her own house, a thriving business, and good friends, but the things she had to do to get there are a time bomb ticking away, and when it goes off, she'll be teetering on the edge of a chasm that can put her right back where she started.

Sky has secrets. Like, she's got a Y chromosome and the original equipment to go with it. Like being a highly paid escort. Like, if Zach is seen with her in public, it could ruin his career. Like someone becoming so obsessed with Sky, that obsession threatens them both.

Secrets... everyone is hiding something, and instead of finding The One, it could be The End.

Jordan Christopher: Transgression is a book that defies so many stereotypes that it's impossible to list them all. The author, Theo Fenraven does a fabulous job of crafting a tale that will keep readers enthralled, glued to the edge of their seats. There were more than several occasions where I was literally screaming at my iPad, asking WTF was going on.
Sky Kelly is an herbalist trying to make a name for herself in the busy city of Hollywood, but she has secrets that threaten to destroy everything she's worked so hard to build for herself. She's a transgender call girl. Not exactly something you put on your resume'. The more you read, the farther you fall in love with her character. I've never read another character quite like Sky Kelly.
Zach Fox is an actor in a breakout medical drama. His career is just beginning to take off; the last thing he needs is for the media to find out about the skeletons he's hiding in his closet, right next to himself. Zach is bisexual, dating his female co-star both for convenience and as a cover. In the beginning things were good between them, but six months later Zach finds himself tired of the relationship and unable to sleep. A friend takes him to see Sky, seeking a natural cure for his restlessness. That's how the two meet, and as they say…the rest is history.
Sky had a rough childhood; her parents threw her out on the streets because of her sexuality. She did what she had to do to survive, which is how the hooking started. She continues with it, because it's all she knows. Her view of herself is very self-deprecating. She sees herself as a freak, and doesn't believe she deserves happiness and love or that anyone will ever give that to her. Zach is immediately enraptured by Sky. He pursues her and she eventually caves and agrees to dinner with him. They get very close, very quickly. Sky is a very brave woman. She was very upfront about her anatomy; telling Zach on their first date. It doesn't faze Zach at all, because he's captivated by the person that is Sky Kelly, not the body parts that make up that person.
I'm sure you can see where this is going, in regards to Zach's career. I won't ruin the book for you, so you'll have to read it to find out how it ends. But let's just say that Sky and Zach get the ending they deserve, even though they go through hell and back to get there.
Theo has outdone himself. I'm a very picky reader, and I don't have one complaint about this book. It was an accurate portrayal of bisexuality (I myself am a bisexual male) and what I would imagine is an accurate portrayal of the hardships and prejudices many transsexuals face on a daily basis. Transgression hammers home the reality that all love is equal and it's no one's place to judge, but does so without being too in your face about it. I urge anyone who is on the fence about reading this book because of the content to give it a chance and read it. You won't regret it.
I give Transgression 5 out of 5 stars. It has earned its place on my favorites shelf, as has its author. The characters were created perfectly. Readers will have no choice, but to love them. They're the kind of characters that you get emotionally attached to; they truly do suck you into their story. The plot was great. I was worried it might be a little generic, but due to the content it is anything but. I'd highly recommend this book to anyone who loves a truly enchanting love story.
Transgression is available today! Be sure to get your copy and let Theo Fenraven know we sent you!
Report Card
Cover
Characters
Plot
Writing
Steam
Overall:
5
Related Posts