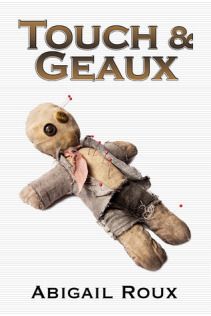 Touch & Geaux
by
Abigail Roux
Also by this author:
Shock & Awe
,
Ball & Chain
Series:
Cut & Run #7
Also in this series:
Ball & Chain
Published by
Riptide Publishing
on April 8, 2013
Genres:
M/M Erotica
Pages:
349
Goodreads
Buy the Book
After having their faces plastered across the news during a high-profile case, FBI Special Agents Ty Grady and Zane Garrett have become more useful to the Bureau posing for photo ops than working undercover. Just as Zane is beginning to consider retirement a viable option, Ty receives a distress call from a friend, leading them to a city rife with echoes from the past.

New Orleans wears its history on its streets, and it's the one place Ty's face could get him killed. Surrounded by trouble as soon as they land, Ty and Zane are swiftly confronted with a past from which Ty can't hide—one with a surprising connection to Zane's.

As threats close in from all directions, both men must come to terms with the lives they've led and the lies they've told. They soon discover that not all their secrets are out yet, and nothing lasts forever.

Les Joseph: Let me set the stage for you.
It's April 1 and you're patiently … or really, not patiently at all, drumming your fingers on your desk. You refresh Twitter. You refresh Facebook. You check your phone to make sure your notifications are working. You send out a mass text to all the people in your book group. Did you hear anything yet? The same message goes out to same group of people signed into the group chat on FB. Anything? Every few minutes the same thing happens over and over again.
You start to sweat, your fingers shake. You bounce your knee up and down so hard and fast that your muscles ache. You haven't eaten and you for damn sure haven't had anything to drink because who has time to go to the bathroom when the message that the book is here … that it's finally here … might come at any second?
This, my friends, is what it's like to be one of Abigail Roux's minions. We are a wild and crazy bunch who are slightly, or more accurately, extremely obsessed with FBI Special Agents, B. Tyler 'Ty' Grady and Zane Garrett. The book of course is Touch and Geaux, number seven of the highly successful Cut and Run series.
If you don't know anything about the books let me give you a few highlights. It's an epic love story. Granted, it's set against the backdrop of a serial killer in NYC, treasure hunters and one pissed off cougar in the mountains of West Virginia, and a cruise ship where there's danger around every corner. We have bombs and bank robberies, an ex-CIA Agent determined to do whatever it takes to stay an ex, and a wayward tiger named Barnum. Yes people … a tiger. But it's a love story nonetheless. The books are filled with witty and snarky dialogue, drama and suspense, tender moments that will make you cry, and love scenes that are so hot even an ice cold shower won't cool you off.
These books have everything … and then some.
When I was given the opportunity to write a review for Touch and Geaux, I was at once ecstatic, and pee in my pants nervous. My love for these books, these characters, is well-known. Very well-known. I make no apologies for loving them, obsessing over them, and for telling everyone I know that they must read these books. Abi is so gifted; to be able to pull us into the stories so completely, where you never want to leave, is a talent few possess. How in the world can I write about an author I admire and books I want to lose myself in forever?
I have no idea, but I'm going to give it a shot.
Touch and Geaux takes us to New Orleans. For all of us who follow Riptide Publishing and Abi on Twitter, you know that for the past few months we have been positively tortured while the final edits were being done. With the tagline "Nothing Lasts Forever" being bandied about, it's no wonder that we have all waited for this book with a sense of dread.
The Cut and Run series is not for the faint of heart. Some very good friends and I have a small group on Facebook. We flail and have threads that last for days. Some of us read with an emergency station at our elbow, complete with alcohol and a stack of paper bags for when hyperventilating becomes a real worry. We have interventions by chat at 1:30 in the morning. We send out status checks, sometimes by proxy, just to make sure we haven't lost anyone due to an overload of the feels. We have Team Zane and Team Ty pic spamming wars. We have even come up with a few t-shirts of our own–Ty would love them.
We might be a little … err, A LOT invested in these two.
Book 7 begins with our two favorite men happy, crazy in love, and being told they must participate in a photoshoot for a calendar being put together for charity. Grumbling and complaining the whole way as only Ty and Zane can do, the shoot turns rather somber and poignant.
Zane walked up to the other side of the makeshift desk, shirt back on, weapons back in hand already. "Are we done?"

Ty looked up at him, mouth gone dry. He nodded and met Zane's eyes. "Come look at these," he requested, voice hoarse.

Zane rounded the pile of equipment as the photographer walked over to the camera. Susan followed him, still talking. Cynthia and Violet chattered off to the side. Zane stopped at

Ty's side and looked down at the screen. Ty heard his sharp inhalation.

"Good, right?" Ty whispered.

"Yeah," Zane breathed. "They're not going to use . . . are they?" He pointed at the last few photos.

Ty looked over at Susan, the lines furrowing her clean brow, the look in her eyes. "No. They're going for feel-good, not . . . not that."

He studied the photos again, wondering what people would see in them. There was nothing sexual or even romantic there. But there was something.

"That's us," Zane said quietly. "Really us."
After the photoshoot, there's a party to celebrate Zane's 20-year mark with the Bureau. There's talk of retirement, something both Ty and Zane have been looking forward to, for more than a few reasons. Their private celebration afterward is interrupted by a phone call from Ty's best friend, Nick, a fellow member of Ty's Marine Recon Team Sidewinder that brings Ty and Zane rushing to New Orleans. If you've read the first six books, you know that Ty being in New Orleans is begging for trouble.
And trouble is definitely what they get from the moment they step off the plane.
The entire Sidewinder team, a murder, a voodoo gris-gris bag, and a very pissed off, hell bent on revenge, ex-SAS agent named Liam Bell are just a few of the surprises to greet them in sultry NOLA. Oh, us faithful minions have been teased mercilessly by Abi and the Riptide team with this guy. We've been warned he was going to cause chaos, and boy did he deliver, though I'll admit it was not in the way I expected. Not a surprise coming from the genius that is Abigail Roux. She kept me on my toes from beginning to end.
Liam's arrival brings with it a tidal wave of uncovered secrets and half-truths that affect not only Ty and Zane, but the entire Sidewinder team. I loved getting to know Nick, Kelly, Digger, and Owen so much, and I was so happy that they were featured so prominently throughout the book. I appreciate the bond Ty has with these guys so much more now, especially his very special friendship with Nick. I even enjoyed seeing Owen, who has come a long way in redeeming himself.
One of the most unexpected things about this book is all the backstory we get. From Zane and Becky, to Ty's first few months in the Marines, to that mysterious joint mission we heard about with the SAS, a whole lot of little things suddenly add up to a big picture. So much falls into place, and not all of it is good. Secrets always have a way of coming back to bite you in the ass.
But of course, it's Ty and Zane that suffer the most. I won't lie; it's brutal. It's painful and it will shred your heart reading as these two try to navigate through hurt and guilt and anger. I cried. I cried a lot. My friends cried. They cried a lot. We cried together. We raged and screamed and it's taken days to process everything. THAT is how invested we are in these two exceptional characters and THAT is the brilliance of Abigail Roux's writing.
Zane shook his head. He'd never realized it was possible for a heart to break for so many reasons at the same time.

"You didn't want to hurt me? Well you failed that mission miserably. That's really the only thing you care about, right?

Mission accomplished?"

Ty's grip tightened and he lowered his head. He was holding onto Zane as if he'd fall if he let go. Zane recalled
the last time they'd both fallen; Ty'd begged him to trust him, and then thrown him off a building. Literally. And Zane had trusted him, with his life, with his happiness, and finally with his heart.

During all that, though, Ty hadn't trusted Zane with one simple secret.

Their entire time together flashed through his mind as the pressure in his chest grew. He ran his thumb over Ty's finger, trying to understand Ty's reasoning, desperately trying to believe him.

Ty's eyes were drawn to the movement, to the finger that would wear a ring if their plans went the way Zane wanted them to. "Nothing about us was a lie," Ty whispered brokenly.

Zane had heard that before. Nothing else was a lie, Zane.

Except all of it had been a lie. "Fool me once, Ty, shame on you."

Ty raised his head, his eyes pleading.

"Fool me twice . . ." Zane shook his head. He let go of Ty's hand.

"Zane, please."

Zane shut his eyes as he stood. "I need some time, okay? I just need . . . I need to think."
Heart. Break.
Touch & Geaux starts with a bang and doesn't let up until the very last word of the very last sentence … and what a sentence it is! It took me a few days of thinking and talking, of going over sections and really letting what Abi did in this book sink in, before I finally got it. I don't want to spoil anything if you are one of the few who hasn't read this book yet, but let me just say that my love for Ty and Zane has done nothing but multiply about eleventy-billion times. Their strength, their weaknesses and mistakes, the way they are such imperfectly perfect men but are perfect for and with each other, takes my breath away.
This book was everything I wanted and nothing I expected. It was a rollercoaster ride that took me from the highest highs, though there aren't many, to the lowest lows, and everything in between. You will need to have a well stocked emergency station for this one people. Make sure to have plenty of alcohol and tissues, you'll need an abundance of both!
How long is it until Book 8?! I'm not sure any of us faithful minions will make it that long!
Related Posts