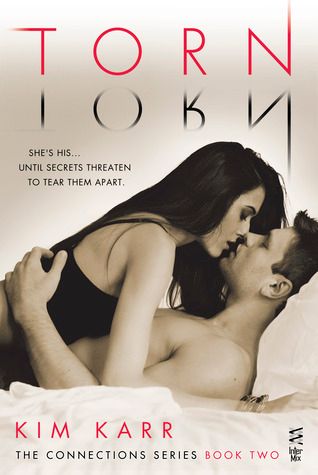 Torn
by
Kim Karr
Series:
Connections #2
Published by
NAL Trade
on October 1, 2013
Genres:
New Adult
Pages:
352
Goodreads
Buy the Book
Rock star River Wilde brought Dahlia London back from the brink of hopelessness with his unwavering love and devotion. But their entangled history is about to test the strength of their relationship…

Dahlia was certain she had found true love and met her "Once in a Lifetime' when she reconnected with River. But Dahlia's world comes crashing down when someone from her past resurfaces, and all of River's carefully hidden secrets are exposed.

River wants to show Dahlia that life isn't about waiting for the storm to pass—it's about dancing in the rain. But how many times can one broken heart be mended?  Will River and Dahlia be able to stay together or will they be torn apart?

Betsy: First of all, I need to say, I really wanted to like this book. Why? Because it had a pretty good premise with a rock star and someone from the past coming back to cause conflict and heartache and will they make it, etc? Love that. Plus rock star! But alas, it just really didn't work for me.
So what did I like? It was very steamy, filled with angst and uncertainty. I was not sure until the end that the characters would make it. Part of the problem, aside from the plot, which we'll get to, is that the drama was a bit thin and very drawn out. I felt like I was watching a tennis match, but only seeing one side. Like there was a missing piece that I just wasn't getting.
The characters were likeable and well-drawn, even if their dithering and lack of communication skills got on my last nerve. Well, I probably should say their ineffective communication skills because they did communicate. They had lots and lots of sex instead of talking and using their words. Every single time there was supposed to be one of those coming-to-Jesus meetings, instead of talking there would be sex. Angry, rough, tender; on every surface of the house, with little thought to the presence of anyone else. LOL. Thus, nothing was ever worked through. It was this: have a fight/misunderstanding, storm off, think about the need to tell him/her what you are feeling, race over forgetting your phone etc, confront person "we need to talk," and then have sex again, fall asleep, no talking. Rinse/Repeat. Now we all know that this lack of communication thing is a very familiar tool/device that writers use to keep some dramatic tension. While it can be frustrating, I don't mind it, if, and this is a deal-breaker, it is not drawn out. This went on way too long.
The other area that was problematic was the plot. Not the actual mystery that occurs and I won't say for spoilers' sake, but the holes within the plot. Like big plot holes and light research into the law enforcement element. It was forced, lacked believability and made me slightly cranky. It could have worked if a bit more attention had been given to the niggly details.
I also had the feeling that I was missing details that might have helped make both the plot and the characters' behavior more comprehensible. I see that this is the second in a series with the same characters so that could be part of the problem. I have not read the first book so I'm missing backdrop.
Now as to the steam, the real star of the book, that was very well done. You will probably never hear me say this again, but there may have been too much of it. LOL because I needed some words to happen too. But, yeah, if you read based on steam, you'll like this one.
So, while this book didn't work for me, fans who read the first book will probably really enjoy the continuation. It was certainly full 'o steam.
Report Card
Cover
Characters
Plot
Writing
Steam
Overall:
3
Related Posts