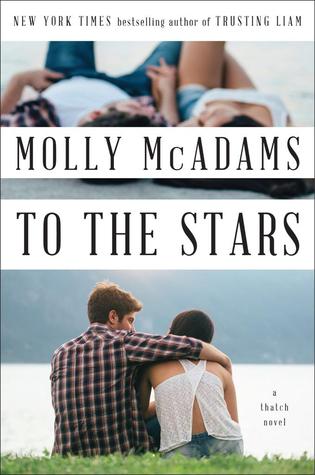 To the Stars
by
Molly McAdams
Also by this author:
Changing Everything
,
Trusting Liam
Series:
Thatch #2
Published by
William Morrow
on February 9, 2016
Genres:
College Romance
,
Contemporary Romance
,
Forbidden Love
,
Friends to More
,
May/December Romance
,
New Adult
,
Second Chance Romance
,
Sobfest
Pages:
384
Goodreads
Buy the Book
In the second book in New York Times and USA Today bestselling author Molly McAdams' Thatch series, Knox Alexander must convince his long-time love Harlow Evans that they're meant to be together.

He promised to wait for her.
She told him he was wasting his time.
Not waiting for him ended up being the biggest mistake of her life.

When they were younger, Knox Alexander swore to Harlow Evans that he would wait for her to turn eighteen so they could be together. But that was three and a half years away, and Harlow couldn't ask him to give up all the fun and thrills of going away to college for her. As the years passed, Knox remained a constant in her life—whether she liked it or not—but when her eighteenth birthday came around, Harlow's heart belonged to someone else.

Every day for the last four years, Harlow has been haunted by that fateful choice. And though he may appear unaffected by what happened in their past, Knox has always tried to fill the void Harlow left. But when he comes stumbling back into her life and refuses to leave, will Harlow finally let him into her heart…?
Kassiah: This book. I guess I should start by saying if abuse is a trigger for you, you shouldn't even touch this one.
Okay, Harlow was in love with Knox for most of her life, but he was older and she didn't want to hold him back. So they grew apart and when she turned 18 and came to claim her, Harlow had already fallen for someone else. Fast-forward a few years and she's living in hell in an abusive relationship when she crosses paths with Knox again, knowing she never got over him. How can they get it together now?
To the Stars switches from Harlow's and Knox's points of view, both in the past and the present. I found that to be a little confusing at times, but I think that was really the only way this story could be told. I want to say that Knox and Harlow had this epic, sweeping love story, because in a way, they did. Their love was real and sweet and transcended time. Which leads me to the thing I didn't like. Why was she with Collin? I don't even understand it. I don't want to give away more than I already have, but really?
Even with that being said, we went on this journey with Harlow that I've never experienced before. She was so strong and vulnerable. So broken, but allowed herself to rise up. And Knox? I loved him, of course. He was swoony and protective and wanted to do the right thing, even when he wasn't sure what that was.
Also, this story is so heartbreaking. Harlow is abused, verbally and physically every day of her life. Why did it take seeing Knox again for her to get help? The harrowing, nail-biting moments throughout this book made me up my rating, but that's a double-edge sword for me. It was well-written and truly terrifying, but I didn't like it.
This story was a fast read, but it hurts. I think that's pretty on-par for Molly McAdams. The authenticity and romance of To the Stars are amazing, but grab a box of tissues before you pick this one up.
Report Card
Cover
Characters
Plot
Writing
Steam
Overall:
3.5
Related Posts