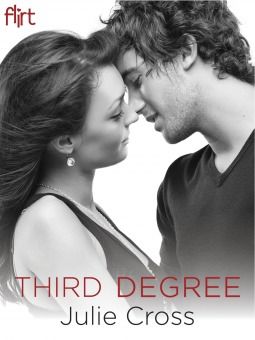 Third Degree
by
Julie Cross
Also by this author:
Whatever Life Throws at You
Published by
Flirt
on March 25, 2014
Genres:
New Adult
Pages:
240
Goodreads
Buy the Book
Fans of Monica Murphy and Tammara Webber will savor this New Adult novel—a story about coming of age in the heat of the moment—from Julie Cross, the internationally bestselling author of the Tempest trilogy.

I used to be "Isabel Jenkins, child prodigy." As lame as that sounds, at least it was an identity. But now I'm not sure what I am. I just failed the most important exam of my life—the emotional readiness test required to get into a medical residency program—and it turns out my parents can't stand each other. Now I'm trying to figure out how to pick up the pieces of my life, and that means re-enrolling as a college freshman, but this time I'm shutting the books and majoring in being eighteen.

But so far, my roommate hates me and I'm not into the party scene. The only good thing about school has been getting to know my insanely hot RA. Marshall Collins makes me wonder about everything I missed while I was growing up too fast. Pretty soon we're hanging out constantly, but for the first time, I find myself wanting more than a no-strings-attached physical relationship. And the lesson I really need is one Marsh definitely can't teach me: love. Because I'm going to be alone forever if I don't learn fast.

Kassiah: Eighteen year old prodigy Isabel Jenkins is devastated when she learns she failed the emotional readiness test that is required to continue her pursuit of becoming a surgeon. She'll get to retake the test–in six months, after she's had some downtime to do some thinking and experiencing. So she trades in her scrubs for a "typical" college experience, where she's supposed to have some fun and live like any other teenager just entering college. She's anything but, but she soon finds that she's like any other girl when she meets Marshall Collins.
"You're about ten seconds from asking me to drop my pants, aren't you?"
Marshall decides to help her have the best experience in college possible and comes up with Izzy's Educational To-Do List Created by Marshall Collins, and Izzy tutors him in, ahem, anatomy. Lines get blurred and despite the fierceness that Izzy tries to front, Marshall sees more than just a genius prodigy.
"I think," he says, grazing my skin with the tip of his nose, "you're not as different from everyone else here as you think. We definitely have common interests."
Turns out Marshall's got secrets of his own, and both of them have reasons for not wanting it to be more than a college fling. Of course, they can't resist each other.
"You are so pretty," he whispers against my mouth. "And smart. I'm not all about the looks, you know?"

I reach between us and smooth my hand over his hard abs. "Well, I am. Totally."
I really liked this one a lot. With a steamy guy and a super-smart-but-not-totally-annoying girl, Third Degree was funny and sweet and sexy.
"It was amazing the first time." Marshall presses his body to mine, dipping his head low to kiss my neck, my collarbone, my bare shoulders. "But I keep thinking about all the places on you that my lips haven't touched yet, and i don't know if you're a girl who could possibly come more than once–I'd really love to find out. And we've only done it on a bed. Never a chair or a table…"
I love that even though she doesn't always know what's going on, Izzy stands up for herself.
Does he want to take me up against the wall, woo me with flowers and dates, or make friendship bracelets?

In the poetic style of shirtless Carson: Fuck you, Marshall Collins. Make up your fucking mind.
I loved the other characters, especially Marshall's little sisters and would definitely read more in this universe.
"Marsh is your boyfriend, right?"

I clutch the jeans and a sweater to my chest, my gaze bouncing between the three of them who all seemed to be waiting patiently for my answer. "I'm…I'm not sure. I haven't actually used that word before," I say, stalling. "And I don't feel comfortable without getting a second opinion first."
If you're looking for a fun, smart New Adult or Contemporary Romance, look no further than Third Degree. The characters are amazing, the dialogue's authentic, and the story is great. A favorite for sure!
Report Card
Cover
Characters
Plot
Writing
Steam
Overall:
4.5
Related Posts