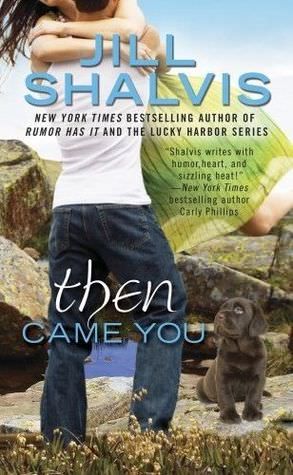 Then Came You
by
Jill Shalvis
Also by this author:
Rumor Has It
,
Still the One
,
Sweet Little Lies
Series:
Animal Magnetism #5
Also in this series:
Rumor Has It
,
Still the One
Published by
Berkley
on July 1, 2014
Genres:
Contemporary Romance
Pages:
304
Goodreads
Buy the Book
From the New York Times bestselling author of Rumor Has It and the Lucky Harbor series comes the story of a woman whose world is turned upside down by one night's torrid fling...

Veterinary intern Emily can't believe she wound up in the small town of Sunshine, Idaho, instead of the Los Angeles clinic she had always imagined. Now she has to put her plans to move to L.A. on hold for a whole year while she fulfills the obligation of her vet school scholarship.

Then Wyatt, her gorgeous one-night stand from a Reno vet conference, introduces himself as her new boss. And Emily is just as drawn to his seductive looks and quiet strength as she was on that very steamy night. She soon learns that Wyatt isn't just a laid-back doctor, but a delicious alpha male tempting her away from her carefully laid-out plans...

Betsy: Shalvis's latest book in the Animal Magnetism Series surprised me. It started off with a familiar premise, a one night stand suddenly appearing unexpectedly in the midst of one's professional life, and I thought okay, let's see if this goes somewhere. Right away, I fell in love with the setting: a veterinary clinic in Idaho. Our heroine, Emily has just taken an internship in the place she would least like to be and runs into a hot one night stand guy who she met a few months prior at a vet convention. Wyatt is one of the vets who will be supervising her in her placement. Oh dear, awkward. And can I just say that nothing is sexier than a man with a baby, but animals come a close second and we get to see lots of Wyatt with animals. Yummmm.
So they have the talk, you know, the one about being professional, acting responsibly, ignoring that one night and the clear attraction that still exists right here, right now. Okay, yeah, like that was gonna work. Practically the first interaction outside of the clinic, an innocent lift home and they are all over each other with Emily, the clear aggressor. LOL
I love Emily. She is hilarious. She fights the attraction so hard, has the best of intentions, but is constantly undone by her libido which apparently has Wyatt on speed dial. She is nothing if not crazy honest.
"You really still scared, or did you just hope to lure me into sleeping with you?" She bit her lower lip. He looked into her eyes and laughed softly. "Emily."

"I can't help it! We have all this stupid, ridiculous chemistry. And have you seen yourself?"
Emily is a giver, a born caretaker, who frequently ignores her own needs for everyone else. Wyatt is a good-humored, smart man who is very careful with his heart. He has been burned by an ex who wanted more than the life he could offer her. He grew up traveling the world and wants nothing more but to settle in this little piece of paradise. He realizes that Emily is the same. She is marking time in this internship and has every intention of going back to her life plan: LA vet to the rich and famous. He has no intention of investing in anything with Emily.
But, what is that saying…best laid plans? Yep, they have this habit of going awry. Despite their misgivings, they end up sleeping together repeatedly (or should I say not sleeping and not necessarily in a bed). She is waiting for him to ask and he is afraid to. Because along with the crazy attraction that they can't seem to avoid, there is a growing affection between them. Will this derail the plans they have? Not telling, you'll have to read to find out.
There are also, as one might expect given the setting, several animal characters, most notable of which is Peanut the parrot, who has a bad habit of screeching random, frequently dirty non-sequiturs at inopportune moments. He is particularly fond of "Boner!"
This was a light, sweet little fluffy read, low on the angst scale and full of steamy heat. I thoroughly enjoyed it.
Report Card
Cover
Characters
Plot
Writing
Steam
Overall:
4
Related Posts