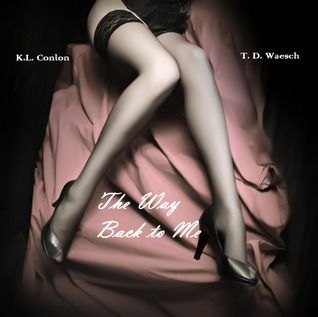 The Way Back to Me
by
KL Conlon
,
TD Waesch
Published by
Self-Published
on November 18, 2012
Genres:
Erotica
Pages:
215
Goodreads
Buy the Book
Lexi Reynolds is facing a game changer. Three years ago, under the insistence of her husband, she walked away from a promising career as a special education specialist with her eyes set on becoming an administrator so that she could be a stay-at-home wife and mother. Now with the demise of her marriage along with her self-esteem and heart, Lexi must face the task of building a new life.

Layla Karsten is not one to sit idly on the side lines. Seeing the crushed spirit of her sister, Lexi, she is bound and determined to push her sister back in life....even if it means tapping into Lexi's inner slut to do it.

Kassiah: This book was a huge DNF for me. Here are the first three sentences:
Oh. My. God. This water is fucking freezing!! Seriously, not one drop of hot water during my fucking shower and no fucking towels! How hard is it for my beautiful offspring to remember that they do not live in a DAMN hotel?
I thought to myself that perhaps this person really needed to use all of the exclamation points. I thought maybe it was actually for, you know, really strong emphasis.
Turns out, no–that's not the reason. The reason is that this book contains absolutely terrible writing. For full disclosure, I officially flounced at 33%, so things might have changed significantly, but in the first third of the book, almost every sentence began with "I". The words sounded like they were coming from a thirteen year old. The lemon…well, what has been seen cannot be unseen.
Here's a little taste (ewwww because pun intended):
All of a sudden, I am brought back to reality. I do not want him to eat me out. Seriously, we just did 'it'. I can't wrap my brain around this. Benjamin always wanted me washed before he would do this to me. I have been conditioned that this is gross. I try to get him to stop. I beg him to stop. My begging makes it worse. He rips my panties in two and spreads my legs apart. I am so embarrassed, but at the same time; so turned on. I give up and get lost in the sensation of his tongue circling my clitoris. He licks it and sucks it and licks it and sucks it until I can't take it anymore. He places his giant hands on my my thighs holding me in place. He suctions his mouth on my clit. Sucking and then softly biting it with his teeth. "AAAAAAHHHHH! FUCK!" I yell out as I come wildly. No one has ever performed a more gratifying display of cunnilingus than Patrick Dane. Every other sexual partner I had up until now lapped me like a dog laps water. This guy could eat me out all day if he wanted! He is the Pussy King!!
Sometimes, people just can't write good smut. So, I thought I would read a little bit further to see if the story could be salvaged. I already knew it couldn't, but I wanted to be thorough. I hate flouncing books. Then I came to this:
Thank God, he had the foresight to put on a condom. In my lust, I didn't even see him do it nor did I think about it.
Yeah, no. This woman is an adult. With kids. Who just "jumped back on the horse" so to speak. I could not read another word after that, and honestly, I wish I had stopped a lot sooner. Like with the first sentence. Hopefully you won't make the same mistake I did, and you won't read any of this "book".
Related Posts