You already know that we Rebecca Grace Allen with the fire of a thousand suns. So of course we jumped at the chance to join the tour for the latest in her smexcellent Portland Rebels series, The Theory of Deviance. We'll be sharing our thoughts on the book, so we'll get right to it 🙂
***About the Book***
The Theory of Deviance
by
Rebecca Grace Allen
Also by this author:
The Hierarchy of Needs
,
His Contract
Series:
The Portland Rebels #3
Also in this series:
The Hierarchy of Needs
Published by
Samhain Publishing
on August 2, 2016
Genres:
Contemporary Romance
,
Erotica
,
LGBTQ
,
Ménage
,
New Adult
Pages:
150
Goodreads
Buy the Book
Deviance is unacceptable. It's taboo. And it's the one thing he's always wanted.

Painful shyness isn't the only reason Mikey Pelletier is a twenty-five-year-old virgin. Between working for his parents and volunteering at his church, he neither has the time nor the inclination to admit his bisexuality to the world—or to himself.

A visit from Krissy Porter will hopefully fix everything. After three months of chatting with her, Mikey's got one carefully planned week to win her heart and lose his V-card. He's hoping he can pull it off, even with her roommate along for the ride.

Krissy has been drawn to Mikey for a while. He's so easygoing, she thinks he could be the calm in her storm. But there's an extra complication when she comes to visit: her friend-with-benefits, "hetero-flexible" roommate, Rafe.

During a week of revelations, intimacy, and kink, Krissy and Rafe become the angel and devil on Mikey's shoulders, tempting him in different directions. And all three of them discover that a week of pure deviance can lead to the most uncontrollable emotion of all: love.

Warning: This book contains innocent board game-playing that takes a sexy turn, use of recreational substances, back-door action, and some smokin' hot threesomes. Plus, scenes of inner-demon slaying. Fans and tissues advised.
***About Rebecca Grace Allen***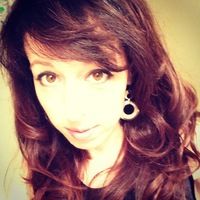 Rebecca Grace Allen writes kinky new adult and hot contemporary BDSM romance. She holds a Bachelor of Arts in English with a double concentration in Creative Writing and Literary Comparison, as well as a Master of Science in Elementary Education, both of which seemed like good ideas at the time. After stumbling through careers in entertainment, publishing, law and teaching, she's returned to her first love: writing. A self-admitted caffeine addict and gym rat, she currently lives in upstate New York with her husband, two parakeets, and a cat with a very unusual foot fetish
Find Rebecca Grace Here: Website | Facebook | Twitter | Goodreads
***Our Thoughts***
Kassiah: I've always loved Rebecca Grace Allen's writing, way before her first published book. She's been one of my favorites for as long as I can remember. But this. This book brings everything to a whole new level. More hotness. More emotion. More depth from the characters. I'm stunned, not because she's such an amazing author–because I always knew that. But because I just didn't think she could get better. And she has.
The summary for this story is pretty spot on. Sweet virgin Mikey has been falling for Krissy for a few months, all online and through phone calls and texts. She's finally coming to visit, and Mikey is surprised when she shows up with her FWB, Rafe. This is an emotional whirlwind, and there is so much story here than you'd expect in your typical ménage plot. It's hot, for sure.
…the sound got lost when Mikey kissed her again–hard and hungry, his outh devouring hers. Rafe's fingers spanned her pelvis, sliding lower until they dipped into her panties. Krissy's breath rushed out when he parted her lips and traced a slippery circle over her clit.

She let out a moan, and Mikey pulled back, gaze dropping to where her roommate's hand moved beneath the fabric.

"Holy shit," he breathed.

"She's crazy wet," Rafe said, kissing her cheek. "She never gets like this with me. Must be you, Mikey."
But it's also tender and sweet and fun and awesome. The end was sweet, although a little unrealistic for me.
Surprisingly romantic and unapologetically hot, The Theory of Deviance by Rebecca Grace Allen is a rollercoaster of emotions and sexy and is a must read for fans of ménage.
Report Card
Cover
Characters
Plot
Writing
Steam
Overall:
4.5
Don't forget to check out the other stops on the blog tour for The Theory of Deviance by Rebecca Grace Allen!
Related Posts