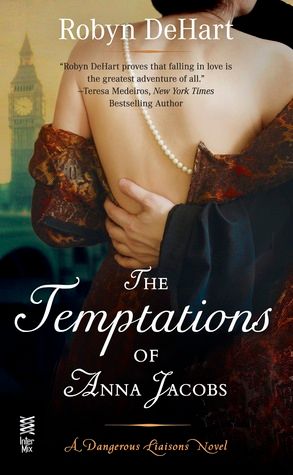 The Temptations of Anna Jacobs
by
Robyn DeHart
Series:
Dangerous Liasons #2
Published by
InterMix
on April 15, 2014
Genres:
Historical Romance
Pages:
232
Goodreads
Buy the Book
Love and justice…

When Drew Foster is released from prison, he doesn't much care about salvaging his soiled reputation. Though he's working undercover, everyone in Victorian London believes him guilty of the Jack the Ripper murders and that his brother paid for his "innocence."

Despite her genteel upbringing, Anna Jacobs is intent on finishing medical school and becoming a physician. Society's ridicule has never bothered her, but when her brother, the Yard's best detective, is scorned for letting Drew go, she confronts the one man who can set the record straight at a ball. She certainly doesn't count on the rogue being dashing and handsome, nor on him stealing a passionate kiss.

Anna's brazen contempt for his dangerous reputation captivates Drew, but he is harboring secrets that make him unfit to court any proper woman. As he finds himself an outsider among his colleagues at Scotland Yard, the feisty beauty offers up her medical knowledge to assist him on the case. But when the real killer returns to London to continue his reign of terror, can Anna find safety in Drew's arms?

Betsy: This was a fun read, set in Victorian Ripper-era London. We meet Andrew (Drew) Foster, the younger brother of the Duke of Carrington, who has been imprisoned and accused of the Ripper murders. Of course, he isn't guilty of those crimes, but is a bit of a rake with a dark secret in his past that has colored his entire world in most unpleasant (for him) ways. Immediately, I liked this character and had a real sense of who he really was underneath the despairing, angry exterior. A good guy suffering from events out of his control, he refuses to give in to circumstance.
His freedom is eventually gained by the efforts of Simon Jacobs, an inspector with Scotland Yard. Simon discovers information that exonerates Drew and wants to employ him as an undercover detective/inspector on the Ripper cases. The plot expands the Ripper case with more murders than those that were historically associated with Jack the Ripper.
Drew meets our heroine most inauspiciously at the home of her brother, Simon, after Drew has been attacked and beaten by a group of suspicious characters. Anna, from an aristocratic family, has never fit the mold in which society wanted to place her. Bookish and serious in nature, she is in the Women's Medical College in London. She treats Drew for his injuries, and let's just say he is less than appreciative. She knows him through social connections and by his less-than-savory reputation, which, based on this interaction, she assumes to be accurate.
The plot twists and turns while following the mysterious and dangerous path of the Ripper. Drew and Anna embark on an investigation into the most recent Ripper murders using the incipient beginnings of forensic medicine and find much to explore inside their own hearts. This slowly building romance between a hero struggling with an unsavory past and addictions and a whip-smart yet naïve young woman is beautifully crafted. It is both heartwarming and heated. The best kind of romance.
If you love history, mystery and romance with a healthy dose of steam, you will love this Victorian era story in the shadow of Jack the Ripper.
Report Card
Cover
Characters
Plot
Writing
Steam
Overall:
4
Related Posts