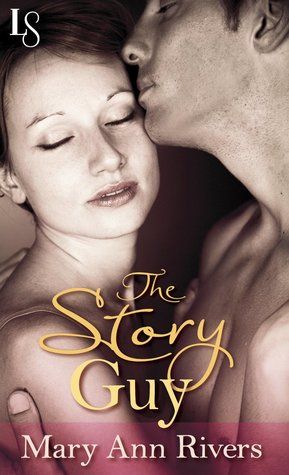 The Story Guy
by
Mary Ann Rivers
Also by this author:
Live
Published by
LoveSwept
on July 8, 2013
Genres:
Contemporary Romance
Pages:
120
Goodreads
Buy the Book
In this eBook original novella, Mary Ann Rivers introduces a soulful and sexy tale of courage, sacrifice, and love.

I will meet you on Wednesdays at noon in Celebration Park. Kissing only.

Carrie West is happy with her life... isn't she? But when she sees this provocative online ad, the thirtysomething librarian can't help but be tempted. After all, the photo of the anonymous poster is far too attractive to ignore. And when Wednesday finally arrives, it brings a first kiss that's hotter than any she's ever imagined.

Brian Newburgh is an attorney, but there's more to his life... that he won't share with Carrie. Determined to have more than just Wednesdays, Carrie embarks on a quest to learn Brian's story, certain that he will be worth the cost. But is she ready to gamble her heart on a man who just might be The One... even though she has no idea how their love story will end?

Betsy: Oh my friends and fellow readers, every once in a while, I come across a little gem and The Story Guy by Mary Ann Rivers is one of those. You know, those books that keep you thinking long after the final page and you sigh and wish you could pretend you hadn't read it, just so you can go back and read it and have all of those feelings again. Yeah, that kind. It has romance, heat, great characters, angst to overcome and a great resolution. What more could you ask for?
When we meet Carrie, she's an insomniac librarian in her mid to late 30's restlessly searching for something, anything over the interwebz. An independent spirit, happy with her work, her comfortable little apartment, Carrie is sure about her contentment until suddenly she isn't anymore. It's that 'light bulb moment' you realize that there is this huge hole you've been hiding from, where instead of being content you are numb.
"Carrie?"

"I'll be okay, Shelley. It's a funk, that's all. Lady of a Certain Age funk."

"Hmmm, There are certain… cures for such a thing, you know."
Her search (and I won't reveal how this happens-*spoilery) for some way to fill this hole, disrupt this blankness leads her to Brian. And Brian…*sighs*. He makes my heart swell and hurt and then he steals it away. On the surface, he appears professional, well put together and heart-stoppingly handsome. Scratch that surface though and you find a man leading a life of quiet desperation with literally no room for personal needs/wants/desires. He can only manage one hour during lunch, one day a week with no strings attached, but not for what most of you are now thinking. 😉
I feel his breath on my lips just as he moves his hand through my hair again, and I short out. I'm a shivery, buzzing mess. "Jesus," I swear, and the expletive moves my mouth over his.

He fits his bottom lip gently between mine, and he is holding my head.

"Mmm." He hums and I suck that bottom lip right into my mouth. It's crazy. His mouth is cool and sweet. He stills. Squeezes my nape. "Okay." He breathes into my mouth. "Okay."

Because apparently I had just given him permission to eat me alive.

I have never had a first kiss like this. Is it that he's a stranger? So beautiful? If so, I am ruined for anything but beautiful strangers for the rest of my life.
Their relationship is built of beautiful small moments, and of course, at some point (well nearly from the beginning) there is the desire for more, which seems to be an impossibility for Brian. There is a bit of a mystery that begs to be solved and solving it becomes Carrie's mission, even at the risk of losing Brian, because clearly he's her Story Guy. I would quote a big section of text here because the meaning of 'story guy' is brilliant and resonates with my belief in how most peoples' lives unfold. I won't though, because I want you to read this and when you get to that part, you'll say– "Oh, yeah. That's what she meant."
Swoony IM messages like this one from Brian who goes by GearTattoo keep the ball rolling:
On Fridays, the cafeteria where I work brings in this farm-to-table caterer that serves all local food and on Friday, she had this…I don't know what to call it, like a tart, maybe. There was half a sticky plum on a sweet and salty cookie and when I bit into it, it was you. I couldn't concentrate the rest of the afternoon.
And the interactions between them get hotter, more frequent despite Brian's parameters and the emotions grow despite intentions to the contrary.
If it wasn't enough that Ms. Rivers delivers a wonderfully different romance with great characters, she can also write the hell out of some words so that you feel them deep and remember them long past the reading. This…
He's not going anywhere; it's as if we're connected by a long, taut string knotted into the bottoms of our tin cans, stretching over all the dark front stoops and backyards between us.
She also makes us understand her characters in such an organic way.
"Yeah. Exactly. Carrie, would you like to know this part of yourself?"

"Huh?"

"The part of yourself that opens herself up to a man based on nothing but a little intuition that there is goodness in him and that he kisses like the world's ending. Do you want to know that part?…"
And this, where a tattoo is truly revealing:
His finger tracing over the looping copperplate script makes me shiver. "It's PS3568.A854 W4837 2003. The Library of Congress call number for Wilson Rawls's book Where the Red Fern Grows."

He leans over to kiss it and raises his eyebrows expectantly. I smooth my hands over his short hair. "The first book I ever read that made me cry. I was seven and hadn't realized books could do that. Just 'finish' you like that…"
Totally makes me understand who she is and kind of made me wish I was a librarian too, because I think many of us readers have had a moment like that.
But, as is often the case, the path to true love or even a sustainable, 'real' relationship is bumpy, full of pitfalls and the giant hairy pink elephant crouching in the corner that refuses to be ignored. Such is the case for these two. Carrie refuses to accept Brian's apparent rejection or retreat, and once she realizes what Brian's life is really like, she makes it her mission to understand and to give him what he desperately needs: the proverbial soft place to land. Because Brian's life isn't easy at all, it's full of hard edges and impossible choices.
And I don't have to say that I totally fell in love with Brian. He has the heart of a lion, though he never recognizes it. He tries to explain himself to Carrie and this…
"…I really have to go, I have to go back. I just had a few minutes, really, to get away. And I didn't want to leave things at that stupid pergola. Because you're not," he says as he slides my tear-splattered glasses up my nose, "just a Wednesday. You're not. You weren't after two minutes of talking to you on the bench, and I had never wanted to kiss someone so badly in my entire life. I can't imagine ever wanting to kiss someone as much as I always want to kiss you."
I could continue to clip out highlights for you, but I would probably be sharing most of the book because these words reached me in the best kind of way. So I encourage you to go and read this fabulous debut novella for yourself. For me, I can't wait to read more from Ms. Rivers.
Related Posts