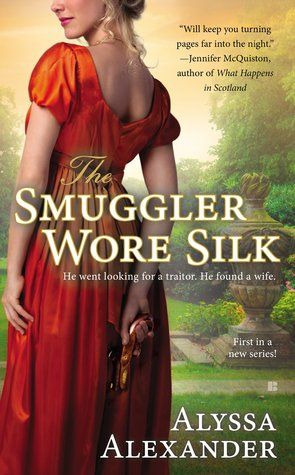 The Smuggler Wore Silk
by
Alyssa Alexander
Series:
Spy in the Ton #1
Published by
Berkley
on January 7, 2014
Genres:
Historical Romance
Pages:
304
Goodreads
Buy the Book
A thrilling, seductive adventure from award-winning author Alyssa Alexander…

After he is betrayed by one of his own, British spy Julian Travers, Earl of Langford, refuses to retire without a fight, vowing to find the traitor. But when the trail leads to his childhood home, Julian is forced to return to a place he swore he'd never see again, and meet a woman who may be his quarry—in more ways than one.

Though she may appear a poor young woman dependant on charity, Grace Hannah's private life is far more interesting. By night, she finds friendship and freedom as a member of a smuggling ring. But when the handsome Julian arrives, she finds her façade slipping, and she is soon compromised, as well as intrigued.

As she and Julian continue the hunt, Grace finds herself falling in love with the man behind the spy. Yet Julian's past holds a dark secret. And when he must make a choice between love and espionage, that secret may tear them apart.

Sandi: First, let's start with the cover. The image of Grace (Our Heroine) in her clearly-silken gown, holding the pistol behind her, is perfect for the story. And the tag line:
He went looking for a traitor. He found a wife.
is just right. Because there is no indication about what went on between the first sentence and the second.
And believe me, it is a bit more complicated than one might imagine!
The tagline mentioned above concerns Our Hero, so I'll start with him. Because I like him a great deal. Nicknamed The Wandering Earl by London Society, Julian Travers has developed a devil-may-care attitude over the years to mask his deadly dedication to the business of espionage. He carries two monkeys on his back: his occupation as a spy as well as his bloodline. Travers men, it appears, are not to be trusted. His past is darkened by tragedy for which he still carries deep-seated guilt. Undeservedly.
The reader gets some information about this guilt long before Our Heroine does. Grace Hannah is the daughter of a local landowner. She is housed and treated like a poor relation, even as she acts as something of a local apothecary to the neighborhood. Her uncle is a horrible fellow, but Grace bears up admirably under the pressure of her depressed status as well as a very public jilting by a local man.
And, of course, she's involved in a smuggling ring. No, really. It's quite charming how it all comes about and I admire her tenacity, here. And her loyalty to her friends.
To a point.
*Clapping my hands over my mouth so I do not get spoilery!*
Okay, so, let's just say that Grace and Julian find definite chemistry with one another that they explore to increasing degrees as they play a little game between themselves. It's cute. A bit cheesy, but it works for me and for them.
But he's a spy and he suspects her of being involved with a traitor, if she isn't a traitor herself, and she is thinking only that he is quite the handsome fellow…
One thing leads to another and…they have to get married.
Is there UST? Steam? You bet.
Lost in the moment and uncaring that her unbound hair would be streaming into the earl's face, she leaned forward over the pommel. The earl did the same until his face was over her shoulder. His breath was ragged in her ear, but she could feel the pleasure in her body echoing in his. He seemed to vibrate with energy behind her.
This is quite racy for a Regency, but still kept it clean and easy for an unmarried couple, which I appreciated.
But it got warmer…!
He groaned and pushed his hands into her loose hair, taking control of the kiss. The demand was there now, the need clear in his foraging tongue and agile lips. His hands worked through her hair, then cupped her cheeks as he drew her against him. She obeyed, hungry for the forbidden. As their bodies met and breath mingled, Grace knew what she had been missing for so long. The something she could never define but that left a hole within her. It was this heat, the fire in the blood and the lust that pooled in her belly.
So you can imagine, perhaps, why they had to get married?
And when they do? Things definitely heat up.
Overall…
As a story, with a traitor plot happening and a man with secrets and a woman whose loyalty to her friends is stronger than her loyalty to her husband (a man she loves even if she won't admit to it), and some colorful secondary characters, it's entertaining and fulfilling. We find out a bit early things that the protagonists don't know for a while, which I don't think needed to happen, but overall, it was a good read.
I recommend this to all fans of Regency Romances who don't mind it when the characters get more heated than kisses in the shrubbery. The passion is well written and heartfelt, though beyond the usual limits in the classic versions of this genre.
Report Card
Cover
Characters
Plot
Writing
Steam
Overall:
5
Related Posts