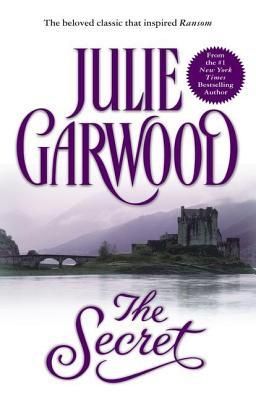 The Secret
by
Julie Garwood
Series:
Highlands' Lairds #1
Published by
Pocket Books
on May 1, 1992
Genres:
Historical Romance
Pages:
404
Goodreads
Buy the Book
It is the late 12th century and lovely Lady Judith Hampton is making plans to leave her home in England for a dangerous journey to Scotland. She is keeping a childhood promise to attend her dearest friend, Frances Catherine, in childbirth. But Judith has a private reason for visiting the Highlands: to locate the father she has never known.

Nothing has prepared Judith for the sight of Iain Maitland, Frances Catherine's brother-in-law, the Scottish warlord who comes to escort her to his land. The Laird of his clan, Iain is the handsomest, most compelling man Judith has ever met.

Though he finds Judith as stubborn as she is enchanting, passion rages between them from their first kiss--and grows into a love so great that he fears for their future together... for her father's identity is a devastating secret that could shatter the boldest alliance and the most glorious of loves!

Sandi: First thing to know is that I am a fan of Historical Garwood. I was first introduced to her work at least twenty years ago and she remains a charming example of the hot, sweet, and swoony (in my opinion) for the historical romance. The Secret is one of my favorites.
It features a lovely heroine, Judith, who comes from a broken home (quite dramatic, really) with a unique skillset. She is greatly loved by her dearest friend and some of her relatives, but not so much by others. For her dearest friend, she will venture anything, brave any situation, and face any humiliation. She's feisty and fun. But not perfect, which is a relief.
Neither is the hero. Iain is your basic Imposing, Hard-ass Warrior. Handsome, too, of course, He is a new laird of his clan and is operating under a certain set of circumstances that not many would tolerate, yet he manages to carry them off. Iain is loyal, of course, and his attraction to (and for) Judith is immediate and immediately discounted.
She, you see, is English through and through. He is a Highlander. And never the twain shall meet, as they say.
Did I mention it was sweet and hot? It's also fun.
Loving him was certainly going to kill her. That was Judith's last coherent thought. She'd blurted it out loud, too, but she was too caught up in trying to hold on to the threads of her control to know what she was saying or doing.

She seemed to come apart inside. She cried out his name, and his own discipline vanished then. He felt her tremors and spread her thighs wider. He knelt between her legs. "Put your arms around me, sweetheart," he whispered in a husky demand. He stretched up, covered her mouth with his, and forced her to stay still by holding the sides of her hips.
I can't put the whole "deflowering scene" here, but it combines the heat and care that even a contemporary woman would want to enjoy at such a moment.
The big secret after which the book is named has to do with Judith's paternity. She believes the identity of her father to be a secret, but Iain (not a stupid fellow) figured it out early on and determines to marry her. Naturally, there is misunderstanding regarding this, but it all works out.
Garwood's delightful strengths are on full display in this novel. Her ability to bring the reader through a purposefully confusing conversation is vastly entertaining, as is her penchant for gathering a great many colorful secondary characters. Judith's best friend, Frances Catherine, is one such, as is the Maitland Council. Garwood spares the readers much of the dirtiness of the era while bringing forth some of the true injustices of it.
In this case, the largest trial is the one involving childbirth and the laws of the Church that surround it. Research is clear in the text but it is lightly displayed through Judith's character. The need of the mother to suffer during her labor, the injustice of her spiritual limbo after having given birth – all is addressed through the indignation of a young woman who fights fiercely for those she loves.
In the end, Judith cannot change the dictates of the Church, but she can and does positively affect the lives of those in the Maitland clan, and finds a true home among them.
I give this book four stars for its entertainment value. If you like historical romances, Garwood is a must read. But…I would advise you to spread out her highland lairds a bit – read in quick succession, they can tend to sound a bit too similar.
Related Posts