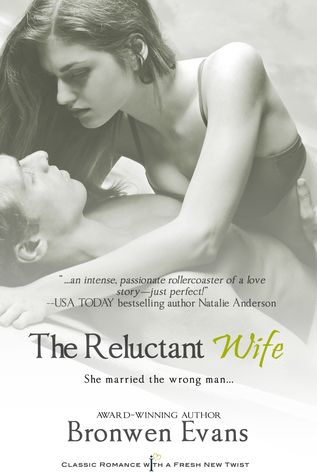 The Reluctant Wife
by
Bronwen Evans
Published by
Entangled: Indulgence
on December 17, 2012
Genres:
Contemporary Romance
Pages:
175
Goodreads
Buy the Book
Abby Taylor walked out on her irresistible husband three years ago. Now she has no choice but to return to Italy to ask him for a favor. To pay for her grandmother's heart operation she needs his money, but it comes with strings attached.

Conte Dante Lombardi has it all—an Italian villa, a successful family business, and a noble title. But he needs a child to carry on his legacy and time is running out. He also hopes to satisfy the desire Abby rouses in him.

As Abby uncovers why he's in such a hurry for a child, she falls in love with him again … just as she realizes it might be impossible to keep her end of the deal.

Kassiah: Abby was only nineteen years old when Italian Conte Dante Lombardi swept her off her feet. He made it very clear from the beginning of their whirlwind relationship that he wanted to have children right away. Lack of attention from Dante and too much pressure being a Contessa in a foreign place caused Abby to flee.
Three years later, she's back. Her grandmother needs an operation, and Abby comes to Dante for the money.
This was the first time in three years that she would be in the same room as her husband, long years where she'd tried to forget him, tried to tell herself she'd made the right choice, that her business filled the void in her chest, and that knowing he'd married her without loving her no longer hurt.

She believed she had conquered her feelings for the arrogant aristocrat, and yet even now she felt the physical tug of his nearness, even a flight of stairs away.

She argued sternly with herself in the gilded mirror while she repaired the more obvious ravages of travel and anxiety.

"You can do this. You're not a gullible, awestruck nineteen-year-old anymore. He's just a man."
He agrees to give it to her on the condition that she return to him as his wife and the mother of his future children. Dante's got secrets of his own.
"His will stipulates I have to marry and have a son by the age of thirty-eight or the company goes to the eldest male relative with a son."
Abby's grown up since she met Dante, and feels like she can handle the terms of their relationship. She loved him before, but things she can turn that off, since she's going into this without blinders on.
She'd been terrified he'd never love her back. But she had enough love for the both of them. He loved her in his own way, and maybe that could be enough.
Neither of them can deny the attraction they have to each other, but that hasn't changed since they met. One of the things that I really liked about this book was that both of them were at fault. Both of them lied. Both of them covered up things. Both of them came to their senses. I also loved that it was hot.
"And I can tell from your response that you want me to kiss you. I'd like to do a whole lot more than kiss you. And you want me to."
I'd say this one was between 3-1/2 to 4 stars for me. I loved that Dante expected more from her, and that it wasn't all his fault. I did not love some of the things their families said to them–it felt kind of fic-like and icky to me. Overall, this was a hot, fast read with substance that I wasn't expecting.
Related Posts